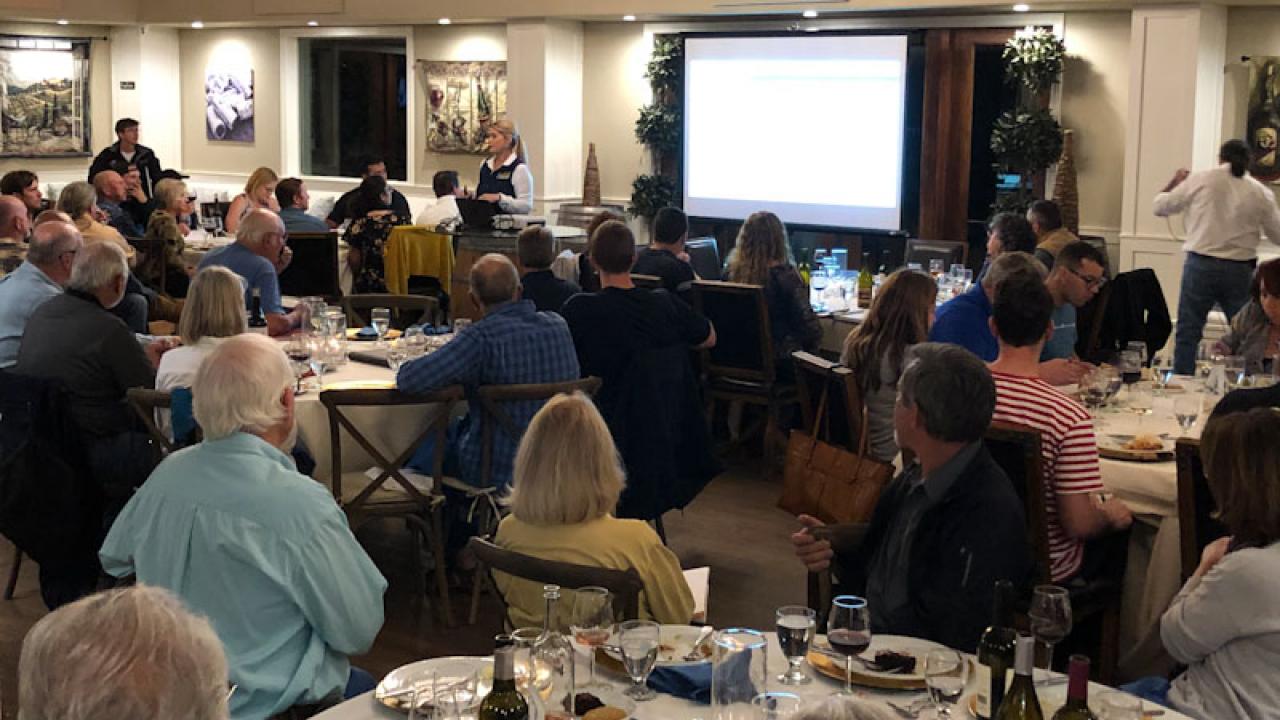 On November 18, 2019, UC Davis V and E Extension traveled to Temecula, CA, to meet with growers and vintners in Riverside County.  To determine the most relevant topics to present, we worked closely with Carmen Gispert, the Viticulture Farm Advisor for Riverside, San Diego and San Bernardino counties. 
We were excited to have such a great turnout and an enthusiastic group, with approximately 80 people attending.  Cooperative Extension Specialist in Enology, Anita Oberholster (UC Davis Department of Viticulture and Enology), started off the evening with a presentation on winery cleaning and sanitation.  Johann Martinez, a postdoctoral fellow in the Kurtural Lab at UC Davis, gave a talk highlighting the effects of irrigation, shade nets, and crop load on grape composition and wine quality.  Professor and V and E Department Chair, David Block, gave an interesting presentation covering phenolic extraction during winemaking.  Then, our newest UC Davis V and E faculty member, Mason Earles, gave an exciting talk about the future of Artificial Intelligence (AI) in viticulture.  Megan Bartlett, also an Assistant Professor in V and E, spoke about her recent work identifying traits to improve grapevine water-use efficiency and drought tolerance.  Anita Oberholster then returned, to give a summary of what is known about the effects of wildfires on grapes and wine and her recent work to figure out some of the unknowns, with a talk titled, "Grapes, wine, and wildfires." 
We enjoyed getting to interact with the growers and winemakers in the area and would like to thank Wilson Creek Winery, Greg Pennyroyal, and the Grangetto Family for their support of this specific program. We'd also like to thank all of the supporters of our extension programs.  Gold Sponsors:  AVF, J Lohr Vineyards and Wines, E and J Gallo, and Constellation Brands.  Bronze Sponsors:  O'Neill Vintners and Distillers, Cork Supply, Cakebread Cellars, Vineyard 511, Lynmar Estate, Laffort, Lallemand, Shafer Napa Valley Wines, Frank-Ratchye Family Foundation, G3, and Wine Institute.
Category