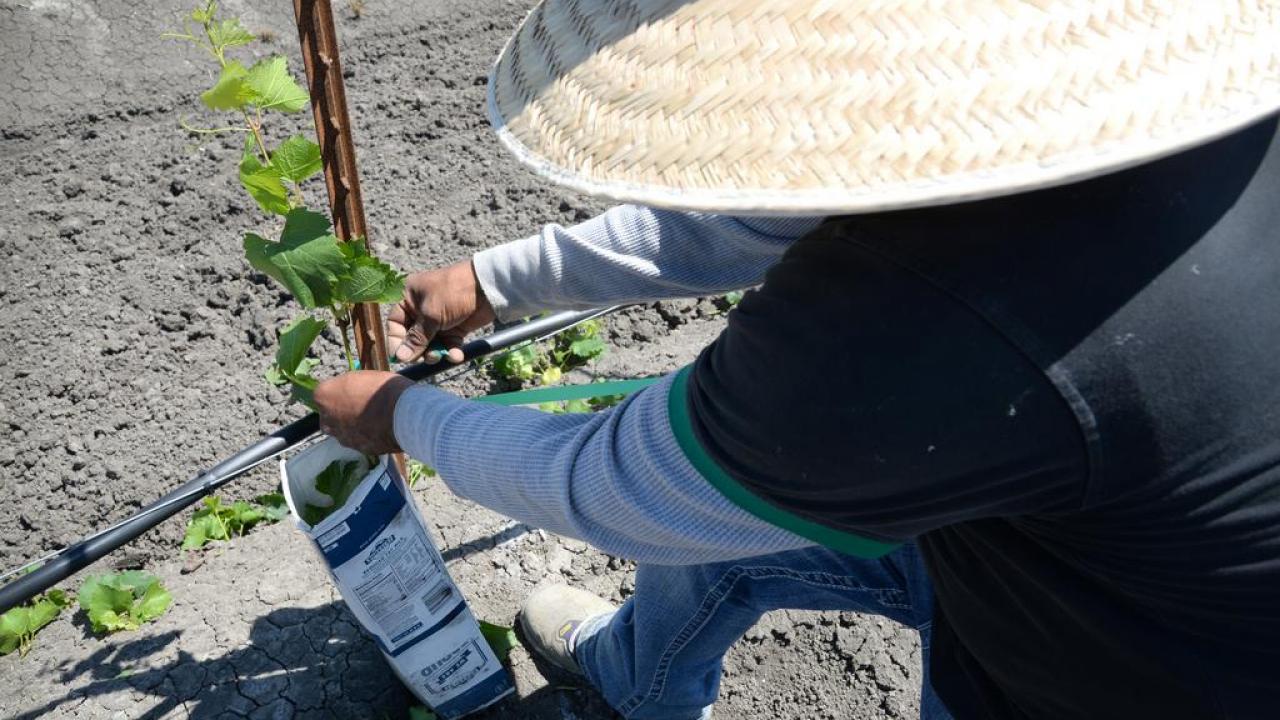 Chuck Mansfield, like most farmers, is paying close attention to the weather. If it stays mostly warm, with just some light showers, in a few weeks it'll be time to thin the shoots in the vineyards he manages in the Sierra Foothills in El Dorado County. At the same time, it could be time to thin the peach, plum, pear and apple fruits from those orchards.
"That could be another pinch, maybe a choke point in the labor," Mansfield said. If both jobs have to happen at the same time, Mansfield is worried he won't have enough workers on hand to do it all.
"The cost of labor and access to labor is always a challenge in agriculture," he said.
He and his father run Goldbud Farms, which grows fruit and manages vineyards for local winemakers. In total, Mansfield said, he oversees around 250 acres.
To manage it, they employ 23 year-round employees. Some of them have been with the farm for more than 30 years, and are approaching their 50s. Finding replacements for those workers is going to be a challenge, Mansfield said.
"There's not a lot of younger people that want to work in agriculture," Mansfield said.
At the same time, Mansfield also has trouble finding a second category of workers, the ones he brings in through a labor contractor to work on the farm on a short-term basis, like for harvest in the fall.
The cost of hiring those workers has gone up as well.
When he first started farming grapes in 2006, he said the total production cost was around $3,500 per acre. Costs have increased sharply since then.
"It's probably double that in some cases," Mansfield said. Most of that increase has been the cost of workers. As a result, profit margins have gone down.
"The price of grapes hasn't doubled in the past ten years," he said.
Mansfield is not alone.
A 2019 study by the California Farm Bureau Federation and the University of California Davis outlines the measures California farmers are taking because they can't find enough employees.
Fifty-six percent of farmers who responded to the survey said they hadn't been able to hire all the employees they needed during the last five years. Of those, most said the problem is getting worse — 70% said they had more trouble finding workers in 2017 and 2018.
For decades, U.S. agriculture has largely been reliant on a foreign workforce. The 2013-2014 National Agricultural Worker Survey found that in California, 89% of hired farmworkers were from Mexico and just 9% were born in the U.S.
However, Mexico's continued industrialization means that more people there have career choices other than farmwork. Meanwhile, the U.S. has tried out a variety of different policies around border security and migrant labor.
Policies under the most recent presidential administrations have tightened the border, and discouraged people from crossing.
"It's extremely difficult to come across the borders these days," said Guadalupe Sandoval, executive director for the California Farm Labor Contractor Association.
"It used to be extremely simple."
Sandoval said the cost of hiring farmworkers has gone up in certain areas — the same places that costs are rising across the board.
"People are paying what it costs to have a worker in certain high-wage areas," he said. As rents increase, so does the cost of hiring workers.
"There are costs involved with different regions, mostly housing," Sandoval said. "A lot of this, I think, you can trace to the lack of affordable housing in many communities."
As the minimum wage goes up, it's also more expensive for labor contractors to operate, and part of that cost is passed on to growers.
Sandoval said there are some signs that this year will be different. In the good economy, when labor was short across the board, many farmworkers left the fields and went to in-demand jobs in restaurant kitchens.
Now, with restaurants shuttered due to the COVID-19 pandemic, those workers could be back.
"They're all out of work," Sandoval said. "They're already calling our members and asking about work."
It's yet to be seen how this is going to impact the farm labor market this year, let alone in future years.
"How many of those jobs are going to start up again after the shelter-in-place is lifted?" Sandoval said. "We don't know."
Still, some farm operators are trying to reduce the labor variable altogether, by minimizing the number of workers needed on the farm.
Wine grapes are known for being especially labor intensive. Grape harvesters have been commonplace in vineyards in the San Joaquin Valley for decades, but vines still needed maintenance, including pulling leaves and trimming shoots, by hand. Now that's changing as well, said Kaan Kurtural, viticulture specialist at the UC Davis.
Since the mid-2000s, Kurtural said, there has been more funding for research into mechanizing those other steps in farming grapes. It's been spurred, in part, by the changing nature of farming.
"We have a lot of consolidation in our business," Kurtural said. "Vineyards are getting larger as farmers are getting old and their kids don't want to do this anymore, so they're selling their holdings."
For the past decades, much of that land was bought up by investors who delegated the farming part out to contractors. The acreage is so large in many of these holdings that getting workers to manage it all proved too large a task.
"It's not just the labor cost," Kurtural said. "It's the availability."
Kurtural is working on 1 acre of vineyard at the UC Davis Oakville Experimental Station, which is farmed completely with machines. To do everything manually would require 32 workers tending the vineyard, Kurtural said. But this farm only needs one.
Category