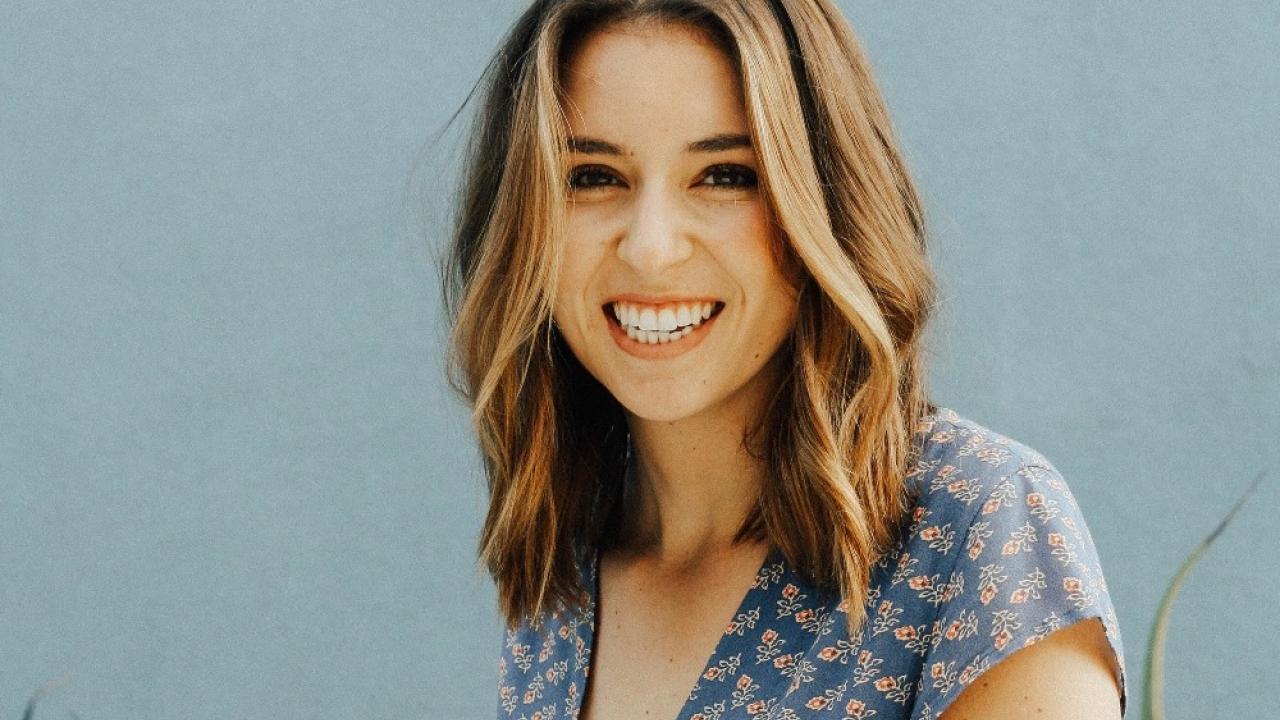 Renee Berkus is a fourth-year undergraduate student in the Department of Viticulture and Enology.  She is from Santa Barbara, California where she has returned home the last three summers to spend time with family and gain harvest experience.  Renee's family is made up of architects, contractors, and interior designers, so she grew up deeply immersed in artistic work.  She hadn't been exposed to the wine industry until she came to UC Davis and became surrounded by it.    
Renee applied to UC Davis undeclared with an open mind, and was encouraged to pursue a degree in Viticulture and Enology as soon as she took an introductory Viticulture and Enology course with Dr. Hildegarde Heymann the fall quarter of her freshman year.  She immediately recognized this field as something that could combine her academic interests in the sciences with her loves of travel, good eating, and working in a creative environment.  Renee was then set on the idea of transferring into the V&E department and dove straight into taking prerequisite courses and joining the student organization DEVO to get to know her classmates. 
Renee has been involved in DEVO throughout her college experience, participating in the mentor-mentee program and working at the annual Winkler Dinner all four years.  As a junior, she served as the Undergraduate Representative of the club and worked to plan the mentor-mentee program to connect young students with more experienced students who could give advice about internships, classes, harvests abroad, and anything else wine related.  She also worked to organize under-21 accessible immersion trips to help expose younger students to potential internship opportunities.  She currently serves as the Vice President of the organization which involves leading meetings, setting up events, planning the 2018 Winkler Dinner, and coordinating this year's DEVO summer immersion trip to the wine regions of Spain. 
After completing her freshman year, Renee worked her first harvest at Santa Barbara Winery under the mentorship of winemaker Bruce McGuire.  It was there she learned about the passion and dedication required to produce wines of quality and place.  She enjoyed her experience and was happy to return the following summer to spend more time learning cellar techniques and discovering wine chemistry.  Following her junior year, Renee spent a harvest working under UC Davis alum, Tyler Thomas, at Dierberg and Star Lane Vineyards.  There she was able to get hands-on experience with several aspects of production including, barrel work, collecting samples for blending trials, sampling blocks to determine harvest dates, crush pad activities, digging out tanks, and even a little forklift driving.  Although the work was challenging, Renee found it to be motivating and fascinating.  This experience validated that she was on the right path and sent her into her senior year with momentum.
Moving forward, Renee is excited to make the most of the rest of her time in the department.  She is honored to be the recipient of the International Food and Wine Society International Harvest Award, and she plans to use this scholarship to pursue working a harvest in Stellenbosch, South Africa in 2019.  This upcoming fall she will be in Napa gaining additional harvest experience and exploring the industry.  Renee is so thankful for her education at UC Davis and for all of the amazing connections and friendships that she has made in her time here.  She is excited to represent the department and contribute to the industry she is so passionate about. 
Category