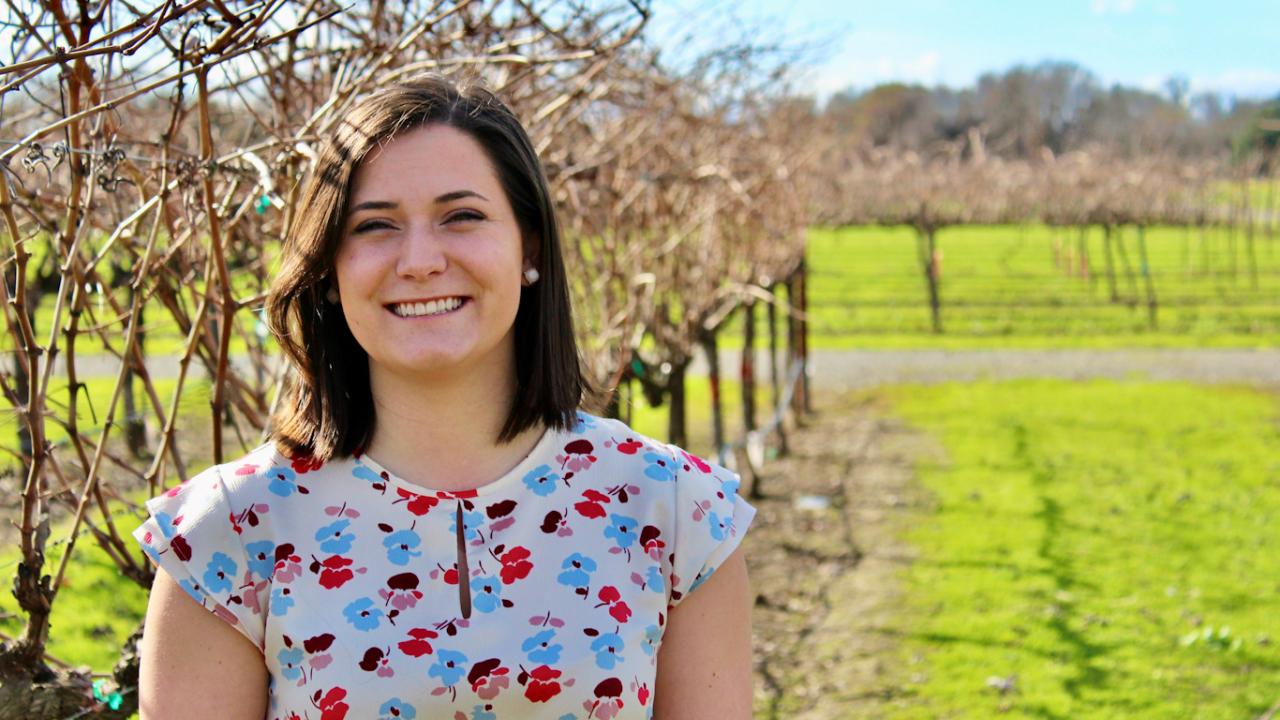 Undergraduate Hannah Hanlon grew up in rural Minnesota, complaining about working for her parents as many children do. When she was ten years old, her parents opened a small family-run winery. Working summers in the vineyard and tasting room, and winters in the winery, she was determined to get out of the country and out of farming.
A very involved and focused high school student, Hannah decided to pursue a degree in Biology from the University of Minnesota-Twin Cities as a Dean's Scholar. Very quickly though, within the first month of starting college, it was clear that this was not the right path, and she considered following in her parents' footsteps. 
She reached out to the Horticulture Research Center - Enology Research Laboratory and secured a position as a lab assistant. Hannah then changed her major to Environmental Science to allow her to explore plant science classes and start to ponder prerequisites for UC Davis. There were days that she lost track of time at the lab for hours on end and the excitement and passion she brought to the lab were a sign that this just might be her calling. She completed a study abroad program the following fall in Dorf Tirol, Italy at the Brunnenberg Castle Vineyard and Winery, then applied to transfer to the UC Davis VEN program. On April 20th, 2018, Hannah received notification that she was accepted into the Viticulture and Enology program at UC Davis. Champagne was popped, for this was the beginning of a dream life at her dream school.
Prior to her start at UC Davis she completed an internship with Bettinelli Vineyard Management in Napa Valley for the fall harvest and started to feel a little bit like a Californian. Hannah became very involved in the VEN program and was elected the Davis Enology and Viticulture Organization (DEVO) President for the 2019-2020 school year, something she has been thrilled to accept and embody. She completed an internship at Viader Vineyards and Winery for the 2019 harvest and is currently in the middle of her senior year. Her days are full of planning department and club events and searching for the perfect job after graduation.  She explains:

"My ideal post-graduation job would be a well-rounded experience with a smaller winery/grower where I get to work in all aspects of the field and better find what niche I fit into best."  
Category