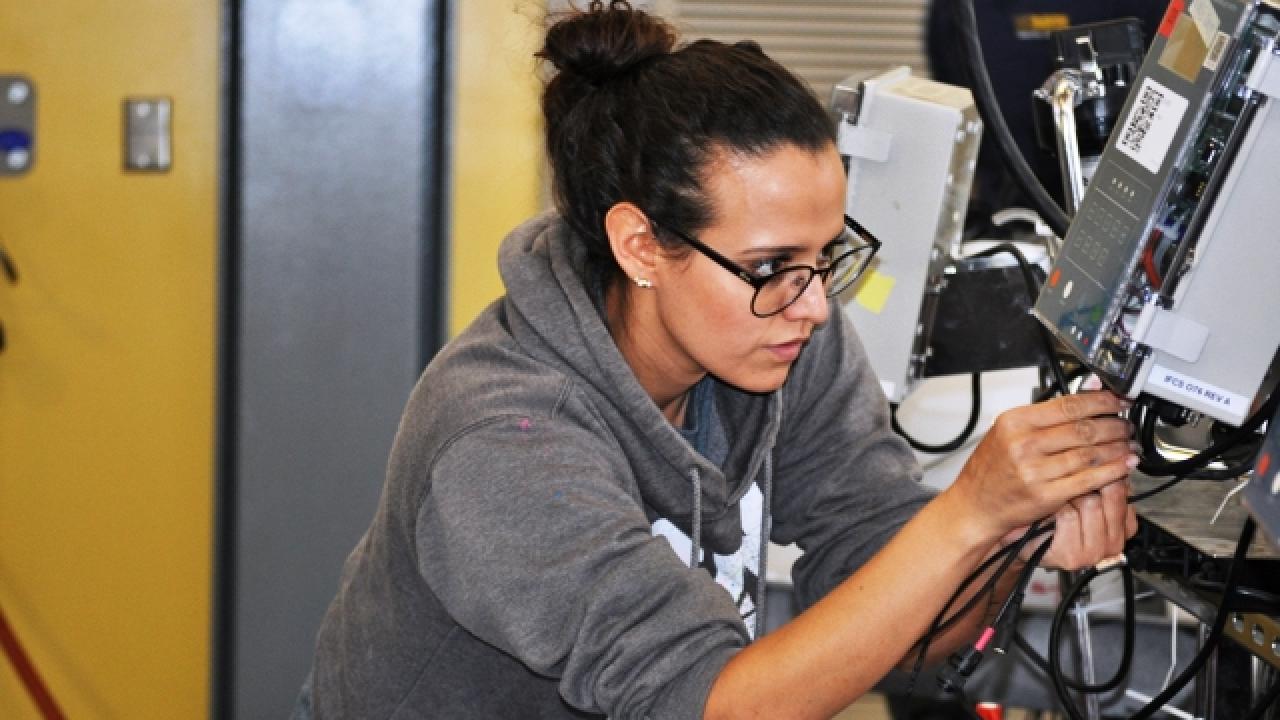 In the Fall of 2017, Dr. Hildegarde Heymann stepped into the huge shoes left by Dr. Linda Bisson, who recently retired.  Linda taught the VEN 124L winemaking course for over thirty years and had placed her stamp all over it. When Hildegarde found out that she was designated to teach the class she realized that no one expected her to continue the course in exactly the same fashion. So, she started by implementing updates and changes – some successful, some less so, and some that need just a bit of tweaking.  Please read on for Hildegarde's description of the different aspects of the class.
Many of the students in the class have prior crush experience but many do not, thus the course is a balancing act between the two groups. In a ten-week course it is impossible to teach students everything about winemaking, however it is entirely possible to drive home the importance of safety and sanitation issues in a winery. We divided students into sanitation teams and each team was assigned a specific week to make sure that the winery was spotlessly clean at the end of the laboratory.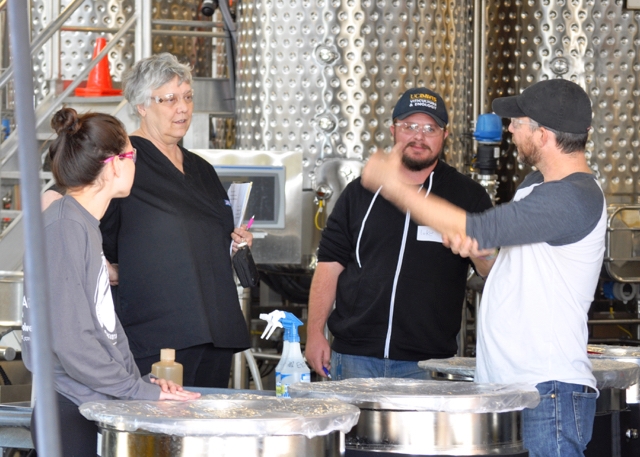 On the winemaking side, I decided that first and foremost I wanted each student, individually, to make at least a red and a white wine. During week one, each laboratory section made a large tank of red wine to model the process, for the students for whom the process was totally new. Additionally, it allowed students to work with the pumps and other winery equipment. Each lab section was then responsible for the twice daily pump-overs of this wine. In week two, each student crushed red grapes into their own TJ fermenter and they were then solely responsible for inoculation, punch-downs etc. of that wine. In week three, we repeated the large scale process with white grapes and during week four each student inoculated their own white wine fermentation.
The next decision was that there should be some "costs" associated with certain operations and analyses. Students each received 500 winery dollars for their two wines. Chik Brenneman, the university winemaker, and I wrote standard operating procedures (SOP) for each wine type. This included information on SO2 addition and timing, nutrient addition and timing, skin contact time (for reds), yeast strains to use, fermentation temperature, etc. and lastly that all work had to be documented through work orders. If the student chose to use the SOP then they were not charged any money for making the wines. However, they also received a list of potential deviations from the SOPs such as different yeast strains, different maceration times, different temperatures, etc. These deviations were chosen buy us to be within the scope of operations possible within our winery and our time constraints. Any changes made to the SOP (by using these deviations) cost 50 winery dollars apiece. Additionally, any standard winemaking analyses, performed by the winery laboratory, such as pH, titratable acidity, malic acid content, etc. cost them additional winery dollars.
The last major decision was that all winery operations should be fully described on daily work orders. These work orders were completed by the student every time she/he did anything to the wine and the work orders had to be handed into the head winemaker for him to track the fermentations.
I also felt that the students, as a group should make some non-still wines. To this end we made some ice wine using previously frozen must. Additionally, we made sparkling wines, which are currently resting on lees. I am in the process of trying to source a relatively inexpensive disgorger – this will allow next year's group of students to disgorge this year's sparkling wine as well as start a new set of sparkling wines for the following year. I would like the students to make an Angelica wine, but currently there are some legal limitations to that plan.
Once winemaking was completed I wanted to 'model' the types of interactions winemakers tend to have with critics and the public about the quality of their wines. Thus, an expert panel (myself, the winery staff, and Mike Ramsey – our teaching laboratory manager) evaluated all of the wines and gave them a quality score. The students then presented their wines to the class, describing what went right/wrong etc., and then the class asked them questions and or criticized the wines. This real life process was painful to some but led to the understanding that wine is not made or consumed in a vacuum."
All in all, I think this year went well and I look forward to teaching this class again in Fall 2018.
Category