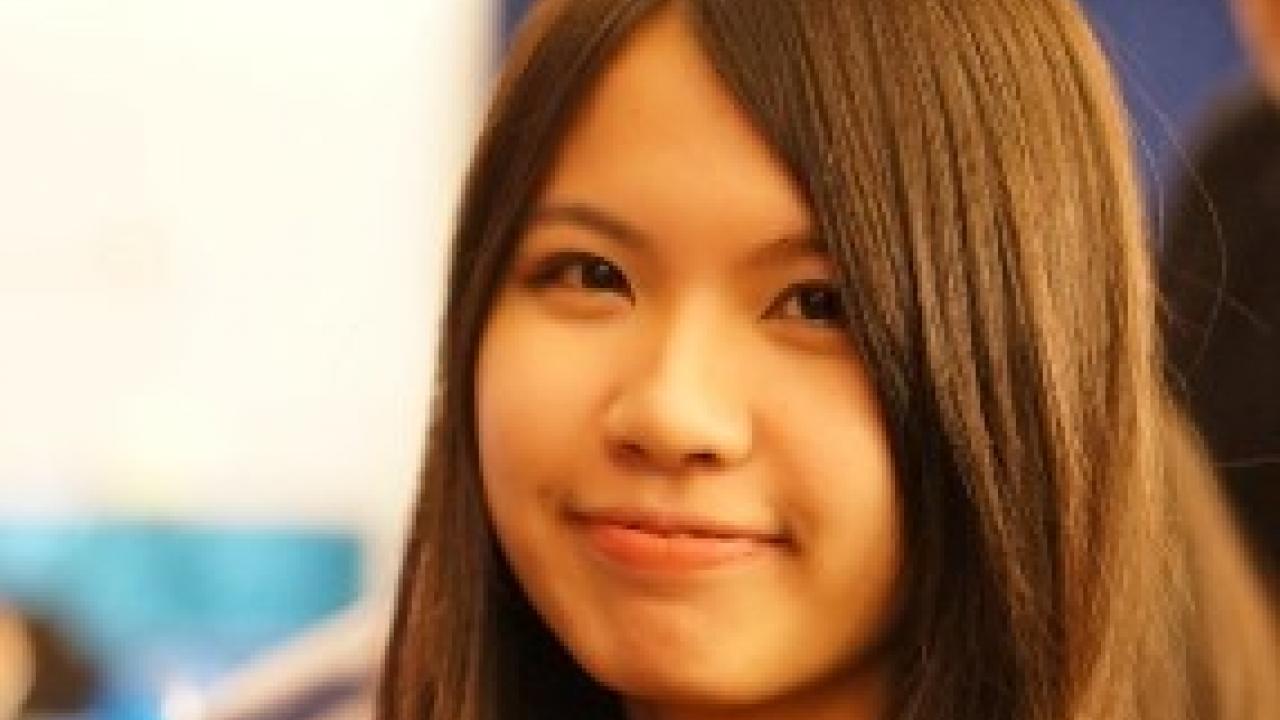 Zirou "Vivienne" Ye is a senior undergraduate who will graduate in the Fall of 2016. Originating from China, she didn't know much about the wine industry before coming to UC Davis, but friends persuaded her to take VEN 2 & 3: Introduction to Viticulture and Winemaking just for fun. She found she enjoyed the information and was often seeking out the the professors to learn more. She was already majoring in plant science, but decided to focus on just one plant: the grapevine. 

Ye changed her major, and immediately had the opportunity to work with Dr. Dario Cantu, who had taught the Intro to Viticulture class. As a research assistant in the Cantu lab for the last two and half years, she's focused on physicochemical modifications associated with fruit ripening on the susceptibility to pathogens. She's been able to apply what she learned from plant science, biochemistry, microbiology and chemistry along the way. Last December, she co-authored her first paper, "Developmental and Metabolic Plasticity of White-Skinned Grape Berries in Response to Botrytis cinerea during Noble Rot", (Blanco et al., 2015) which was published in Plant Physiology. She continues to work on a project related to grape Red Blotch disease. 

After hearing the warnings that "making wine is easy, but selling wine is hard", Ye opted to double major in Economics. 

"I enjoy all the VEN classes I've taken," says Vivienne. "The series of Viticultural Practices classes allow students to practice what they learned in class in the real vineyard. In the vineyard, there are so many different scenarios that students need to think about. The Wine Chemistry, Wine Production, Wine Stability, Wine Microbiology and Wine Sensory classes teach students all the science background of winemaking and are very helpful when we face real problems in the industry." 

Last summer she worked her first harvest at Hanzell Vineyards in Sonoma. Working at the small premium winery gave her the chance to get involved in all wine production aspects: vineyard sampling, bottling, lab analysis, cellar work, and more. This summer, she's at Cliff Lede Vineyards in Yountville, Napa, where she will help the Enologist Laura Jones, a UCD graduate who also worked in the Cantu Lab. 

She says one reason she appreciates this major so much is, "Everybody you meet in this department is your future connection and everyone is willing to help in your school life or career! Now my goal is to become a winemaker. However, winemaking needs practice and experience. Thus, what I would like to do next is still doing more harvests to gain experiences. Also, I plan to go back to lab and pursue a master degree in Horticulture to gain more research experience because I've met so many winemakers who benefit from their research experience. As winemakers, they still read papers about new winemaking methods, make their decisions based on science, and are willing to do experiments on their wine." 

Good luck to you Vivienne! 
Category