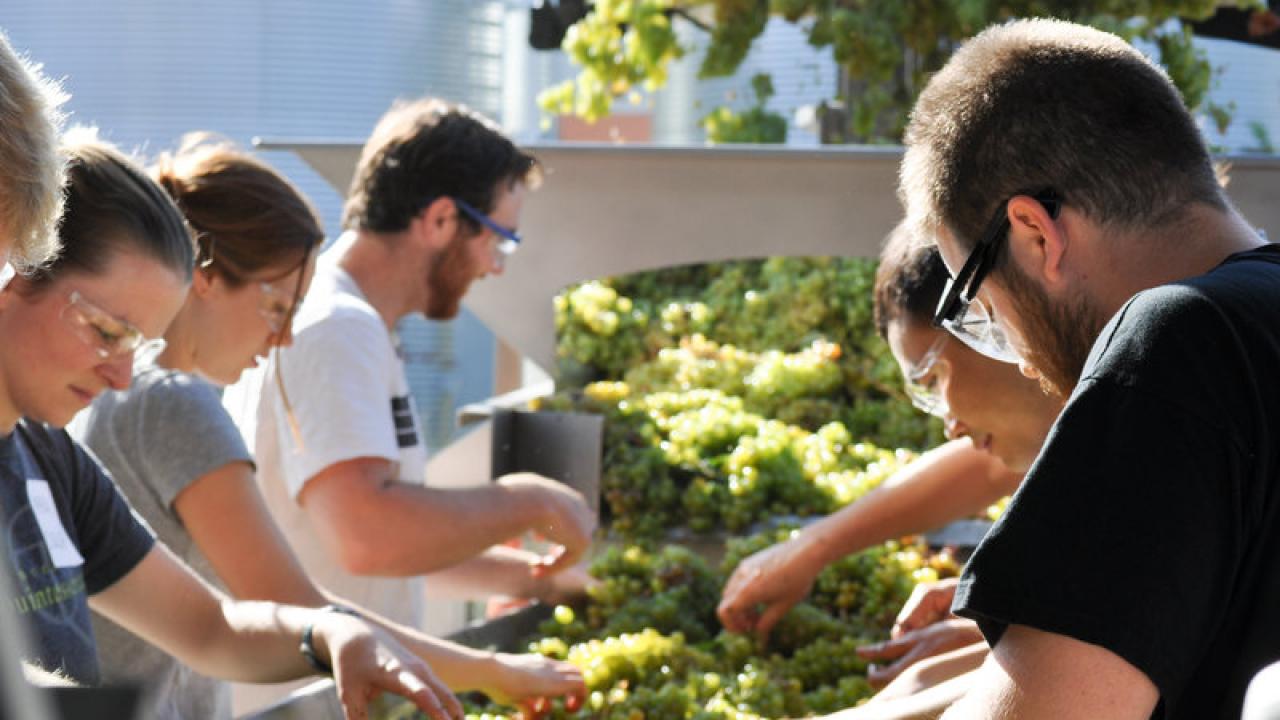 UC Davis winemaker Leticia Chacon-Rodriguez sent in her recap of the 2019 harvest, her first one since joining the University.
---
Harvest 2019 has been a privilege and an unforgettable experience as my first harvest surrounded by very talented people, in this extraordinary facility, featuring advanced technology that has been possible due to generous, private donations. According to my colleagues, this harvest has been one of the busiest since the winery's first harvest in 2010.
An essential component to make harvest run smoothly is the team: the wonderful students that studied and worked hard, the investigators and researchers that dedicated their efforts to successfully perform their experiments, and the supportive staff.
Seven Viticulture and Enology students started over the summer, and four more joined in the fall. We also incorporated two electrical engineering students dedicated to the maintenance and documentation of our IFCS units that control the TJ fermentors, and to support the application of electronics and technology to the winemaking process. The winery staff also participated in some projects including working with the global varietals Forastera, Furmint, Greco Di Tufo, Negro Amaro, Ribolla Gialla, Souzao, Tempranillo, and Trousseau; as well as the application of non-Saccharomyces yeast. We were also privileged to collaborate with current and retired faculty and staff members.
We incorporated into this harvest the fundamentals of food safety, updating the confined space program, and we also had the opportunity to continue working on the potential oxidation-reduction sensors and pressure transducers to monitor fermentation. 
Quotes from the students and researchers:
"When studying Viticulture and Enology, there is only so much that can be learned from textbooks, participating in harvest at the UC Davis winery taught me invaluable skills that I can apply to a future career in winemaking."  - Mackenzie Davis.
"Working in the UC Davis winery is a one-of-a-kind experience. State of the art technology and scientists meet real life industry and it really is a place unlike anywhere else. Working with classmates and peers as well as amazing staff and professors make it a great learning experience. 2019 was a great year and I can't wait to see how the winery progresses in the future!" - Rose Ballantine
"Harvest was very busy this year, with the several winemaking projects our lab group has. However, with the team in the winery, and tracking the process of our wine online with InnoVint, things ran very smoothly." - Arran Rumbaugh
"Working harvest at the winery this summer was the perfect way to apply everything that I have learned in my courses from the past three years. The team that I worked with had experiences ranging in many fields, so we were all able to learn different things about the wine industry from each other. The experience allowed me to feel very comfortable working with winery equipment so I will feel very confident going forward." - Kenna Wells
"I appreciate the opportunity to do research in the teaching and research winery, as everything is systematically organized, and the environment is amazing for student learning." - Yu-Te Tseng
"This harvest has been very special. After four vintages at UC Davis, I would say this has been the earliest and the busiest year. Our first lot arrived at the winery early in the season, the majority of the fruit was harvested and processed in a very short period of time, which forced all of us (researchers and staff) to coordinate down to the smallest detail. Somehow the vintage lasted almost four months. As I said, a very special year." - Cristina Medina-Plaza
"Working in the UC Davis winery allows students to work on fermentations from 1 gal to 500+ gal, allowing students to see the effects of winemaking practices on all scales" - Ryan Montgomery
"This was the first harvest that I took part in.  It was very interesting to experience the various aspects of winemaking from destemming, crushing, and pressing, to fermentation.  Leticia and the winery crew did an excellent job in maintaining a clean, efficient, and accommodating environment. With so many new people, it can be hard to handle training and organizing everything, but I am happy to say everything went smoothly without incident." - Benjamin Geveke
"Being a part of research, as an undergrad in the Pilot Winery, has taught me so much. Getting hands-on experience with actual winemaking and seeing everything come together is a great introduction to the industry, and so exciting!" - Esmeralda Leon
And for the statistics: We processed 85 tons of fruit, plus 510 gallons of donated juice, and in January we will have processed 1.2 tons of red grapes and about 1,200 gallons of white juice. We conducted 410 small fermentations (40- gallon TJ fermentors and smaller vessels) plus 13 large fermentors (540 gallons); and by end of January we will have a few more. We fermented 22 cultivars from various locations, thanks to partnerships with industry suppliers, for research and/or teaching.
This harvest reminds me of the Concerto for Orchestra by Bela Bartók, where every player shines.  Thank you to everyone who contributed to the success of the 2019 harvest!
- Leticia
Category