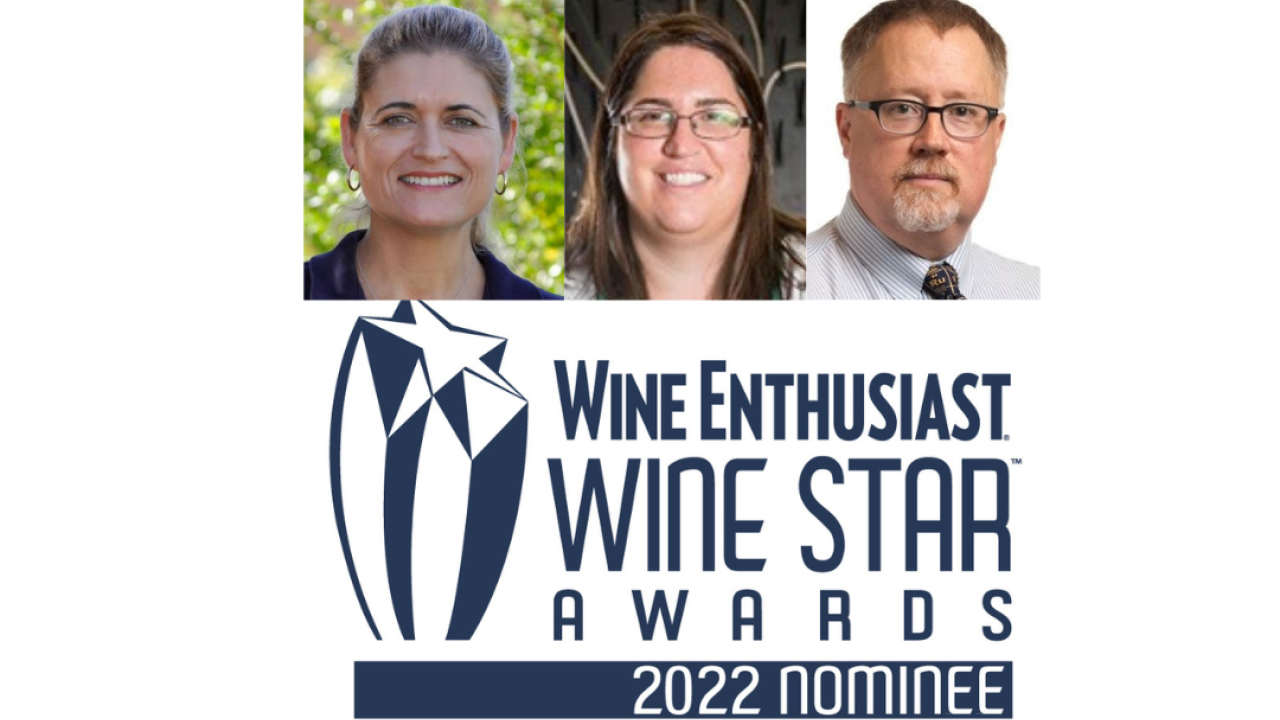 Anita Oberholster (Vice-Chair and Cooperative Extension Specialist in Enology in the Department of Viticulture & Enology at UC Davis), Elizabeth Tomasino (Associate Professor of Enology in the Department of Food Science and Technology at Oregon State University), and Tom Collins (Assistant Professor in Viticulture and Enology at Washington State University) have been nominated for the Wine Enthusiast Wine Star Awards 2022 Innovator(s) of the Year for their work toward understanding and managing the effects of wildfire smoke in grapes and wine! 
With losses from wildfires that have summed up to approximately $3.7 billion, west coast grape growers, winemakers, and researchers wanted to better understand how smoke density and composition affected grapes, grapevines, wine composition, and sensory perception of the wine in a glass. So, three west coast viticulture and enology researchers (Anita O, Elizabeth T, and Tom C) that were already working, separately, on some of the topics listed above, combined forces, applied for, and received a 4-year U.S. Department of Agriculture National Institute of Food and Agriculture Specialty Crop Research Initiative (SCRI) grant.  The research team calls this an understanding of smoke exposure from "smoke to glass".  Through this grant, the research team is focusing on: 
New technologies and sensor networks for real-time risk assessment of smoke in the vineyard

Smoke exposure impact on the quality and health of grapes and grapevines.

Grape barriers/coatings to reduce or eliminate uptake of smoke components into grapes.

Rapid tests to predict what a wine exposed to smoke will taste like when made into wine.

Sensory quality thresholds of smoke compounds in wine.

Predictive modeling of smoke risk to grape and wine quality from environmental, chemical, and sensory data.

An outreach and communication program to share findings with industry.
This year marks the 23rd anniversary of Wine Enthusiast's Annual Wine Star Awards, honoring the individuals and companies that make outstanding contributions to the wine and alcohol beverage world. More information about the Wine Star Award Nominations can be found here.
Category