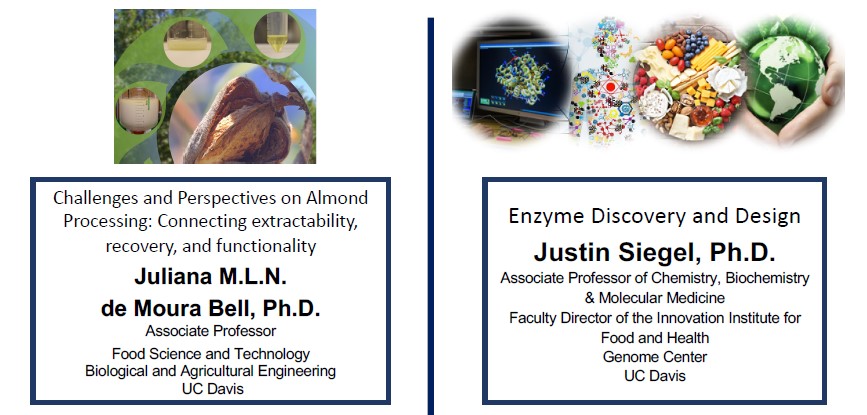 You are invited to attend the UC Davis Department of Food Science and Technology seminar on Wednesday October 27th at 4:10 PM by Zoom. 
Juliana de Moura Bell, Associate Professor, Food Science & Technology, Biological and Agricultural Engineering, will present "Challenges and Perspectives on Almond Processing: Connecting extractability, recovery, and functionality."
Justin Siegel, Associate Professor of Chemistry, Biochemistry & Molecular Medicine, Faculty Director of the Innovation Institute for Food and Health,  will present "Enzyme Discovery and Design."
The seminar will be in-person in room 1207 RMI South for the students in FST290, and available via Zoom for all others.  
The Zoom link is https://ucdavis.zoom.us/j/92208083430 and the PDF flyer is here. 
See you there! And mark your calendars for the Food Science and Technology seminars for the rest of the quarter: 

Nov 3: Chris Simmons, Moshe Rosenberg
Nov 10: Nitin Nitin, Julien Delarue
Nov 17: Stephanie Dungan, Alda Pires
Dec 1: Jennifer Smilowitz, Jean-Xavier Guinard
Category