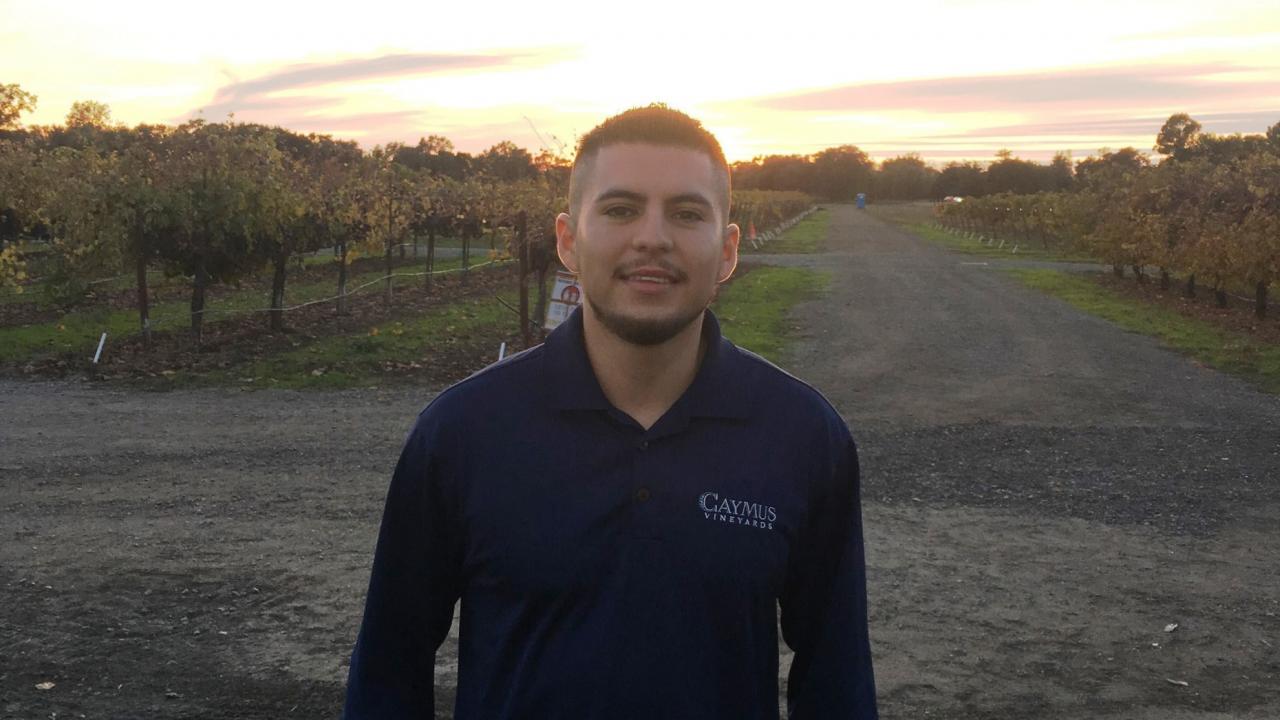 Juan Alonso is a transfer student from Napa Valley College who's currently a fourth-year undergraduate in the Department of Viticulture and Enology. Juan is originally from a small town in the state of Michoacan, Mexico but migrated to the Napa Valley when he was only four years old. Juan comes from a family of farmers that planted corn and strawberries back in Mexico, who quickly adjusted to working with grapes. This is the root of his interest in agriculture.
Juan got his first taste of viticulture during his senior year in high school when he decided to do his senior project on planting a vineyard. This was something completely new to him, but with help from family in the industry and a few mentors, he was able to plant a small 30-vine vineyard in his backyard. It was after this project that Juan knew he wanted to major in Viticulture and Enology, and he had his eyes set on UC Davis. Though he was accepted as a freshman, Juan decided not to go straight to UC Davis, and instead went to the local community college. There, he was able to take general viticulture courses and wine sensory courses that reassured him he had chosen his perfect major, and after two years he transferred to UC Davis.
Juan got his foot in the door of the wine industry when he was only 15 years old, arranging a part time summer job at Caymus Vineyards on their bottling line. He has had the opportunity to return there to continue learning every summer since then. He also helped out on the bottling line and cellar one summer at Clos Du Val winery in Napa. This past summer Juan was able to complete a viticultural internship, working directly with the vineyard manager and chemist at Caymus Vineyards. He describes this internship as a great experience from which he was able get first-hand insight and shadow professionals working on the viticultural side of the business. This internship allowed Juan to learn from the basics of sugar sampling and yield estimations to the more difficult pest and disease management, supervision of contractor crews, harvest decision making, and much more that will greatly benefit him throughout his career.
It was also during this past summer that Juan was able to make his first wine in collaboration with two other UC Davis students, Kara Leong and Nick Shurden. With help from Kara, Juan and Nick were able to obtain a ton of Pinot Noir, transport it to a friend's winery in Grass Valley, process the grapes and monitor the fermentations. This was a great experience for Juan because he and Nick made all the decisions in regard to the wine. It was Juan's first experience being an actual winemaker, and he enjoyed it very much.
Juan is still undecided about what path he wants to take after graduation. He is equally interested in the vineyard management and viticulture side of the industry as well as the winemaking side. He has had the opportunity to experience a little of both sides and loves them both equally. He does however feel that the Viticulture and Enology program at UC Davis has prepared him for whatever path he ends up deciding to take. Juan is excited to enter the workforce after graduation and begin his career. He is considering working overseas to explore other countries' vineyards and wineries, but has not ruled out continuing his education or pursuing an MBA in wine business.
Category