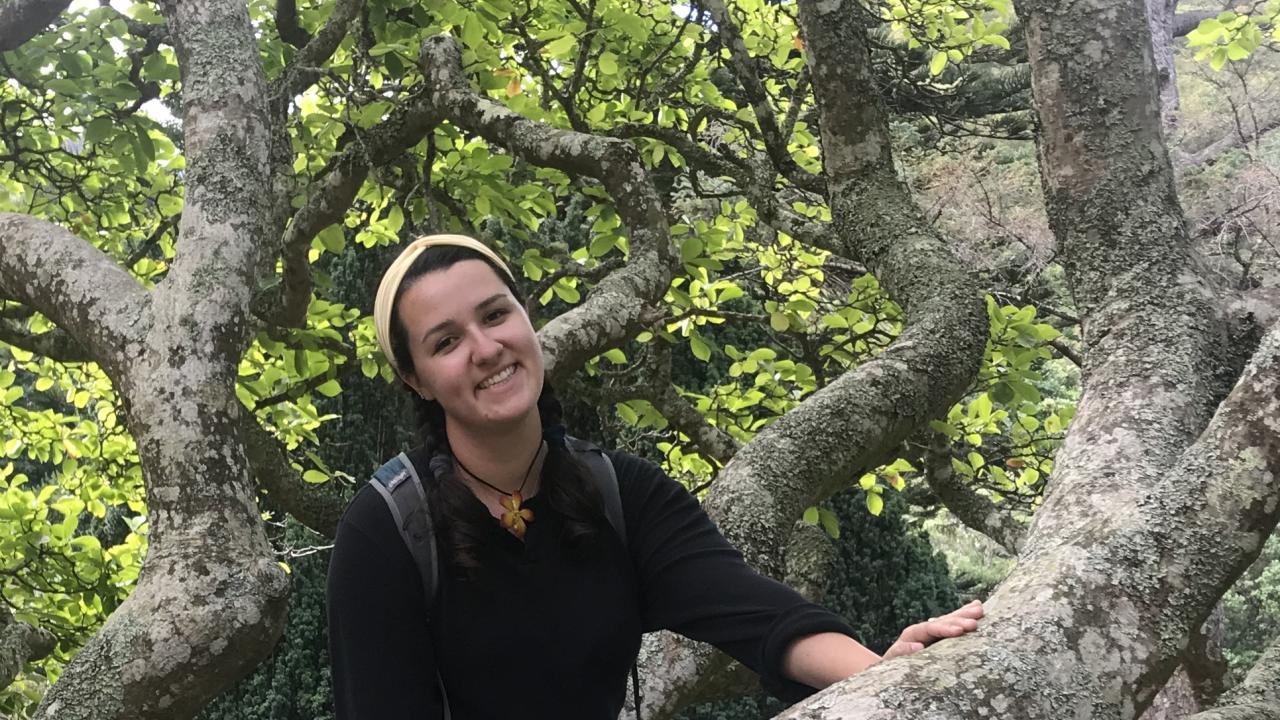 Where are you from originally?
Boston, MA
What brought you to UC Davis? 
I got my bachelor's degree in English and Art History to pursue journalism, but settled into a finance job post-graduation. I thought I needed to be practical in order to pay off my student loans (and my 22-year-old self was definitely dazzled by the young, flashy start-up in the city). I quickly realized the nine-to-five grind was unfulfilling and gave myself one more year in Boston to figure out a new plan. Working under fluorescent lighting all day was inspirational enough that I needed to be outside. I applied for a harvest job, packed my car, and drove across the country. Unsurprisingly, it was love at first harvest. I was hooked and set out on the path to becoming a winemaker. For me, if I were to be in a decision-making role, I wanted all of the tools to make informed decisions. I set my sights on Davis, took every single prerequisite on the list, submitted my application and here I am!  
What do you enjoy the most about studying in this program? 
I love being able to connect the dots between what I've seen working in wineries and what is actually happening on a physiological, chemical, or microbial level. I've experienced so many "aha!" moments. I can't wait to be back in the industry so that I can apply everything I've learned.
I've also really loved being involved in the V&E community. DEVO has especially been a huge part of my Davis experience. My classmates are all such passionate, fun, and intelligent people and I'm excited about a lifetime working alongside them. 
Have you interned at a winery/vineyard management company?  If so, tell us about your experience.
I completed five harvests prior to Davis, including one in New Zealand. Each harvest was a unique experience and I learned something different with every season. My fourth and fifth harvests were at Dashe Cellars in Alameda working alongside Davis alums Michael Dashe and Rene Calderon. Both have been incredible mentors to me and were hugely impactful in my gaining confidence in the cellar. 
What are your plans after you graduate? 
Being a year away from graduation, it feels like the possibilities are endless! Part of me wants to go to Italy to work harvest, part of me wants to apply for enologist or assistant winemaker jobs in California, and another part of me sees myself back in New Zealand. I'm keeping an open mind while I figure it all out.
How has the pandemic affected you as a student?
Luckily, classes were back in person when I started last fall. Prior to Davis, one major positive of the pandemic was it allowed me time to complete most of my prerequisites. I used that time to hunker down and managed to power through eight courses. Although I will admit, I could have never predicted that I would be culturing plates of E. coli in my apartment while everyone else was starting their nth home improvement project.
What is one unique thing about you?
Although I would consider myself an extrovert, I'm a fiercely independent traveler. I've visited five countries solo and even more cities. There's something empowering about waking up and doing exactly what you want in a new place. I also love camping and backpacking alone. Nothing recharges my battery better than a few days hiking in Yosemite with a full queue of audiobooks. 
Category