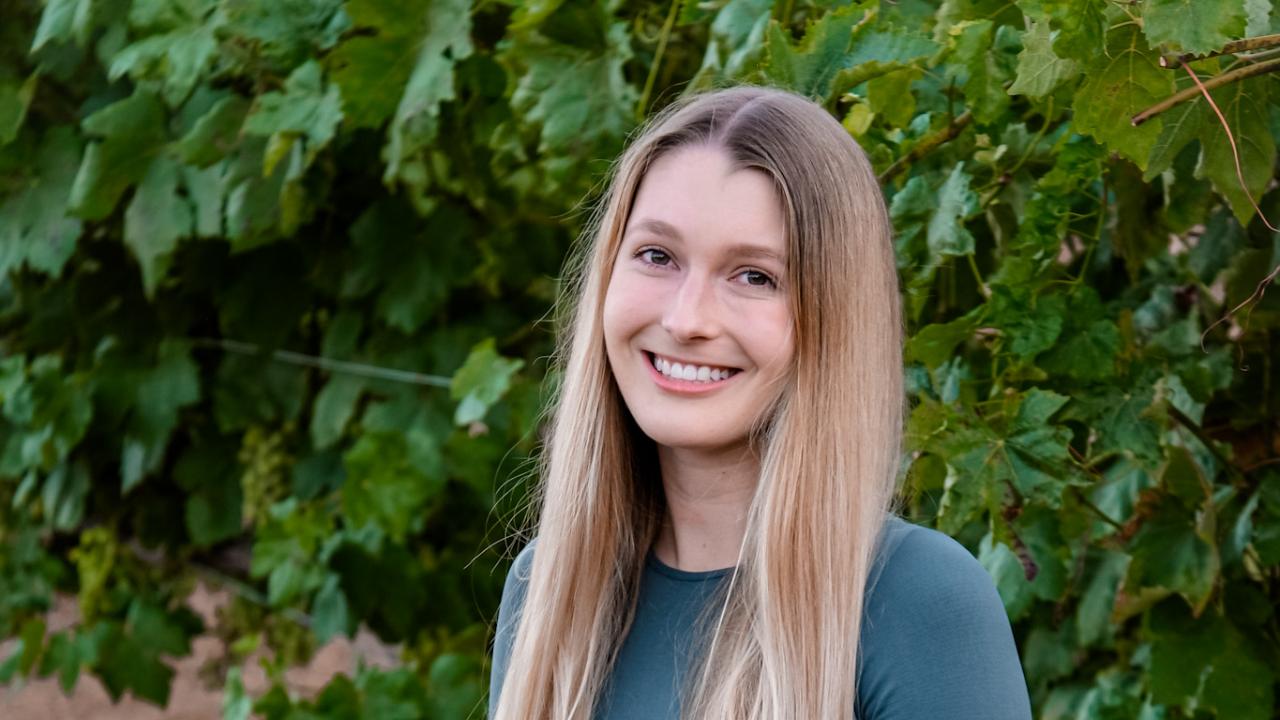 My name is Mackenzie Davis and I am a senior studying Viticulture and Enology. I am originally from a small town, Fallbrook, CA. It is affectionately known as the "Avocado capital of the world." As I grew up, agriculture was always something that intrigued me and I held it close to my heart. I observed how farming creates joy to be shared with others and the sense of community it cultivates. 
I did not get into winemaking because I loved wine. What 18-year-old high school graduate loves wine? I pursued winemaking because it is an accumulation of everything I am interested in. I am drawn towards winemaking because it weaves many of my interests together: the opportunity to spend time outside, science, thoughtful agriculture, artistry, sensory, community, and a reflection of culture. A deep appreciation of wine has subsequently developed. 
The best and most unique part of studying in the UC Davis Viticulture & Enology program is the community. I feel grateful to have professors who value the learning process, making relationships with their students, and supporting them through their education. I feel that the faculty, staff, and students are rooting for your success and the department provides all of the tools to get you there.  
In my spare time, when I'm not studying wine, talking about wine, or making wine, I love being outside! You can find me rock climbing, backpacking, or slacklining. I love to step outside my comfort zone and test my capabilities. 
I have worked four harvests, which have all been highly influential in my learning process. I worked for two summers at Ponte Winery in Temecula, CA. I learned that harvest requires a lot of hard work, grit, and long hours, but it is so rewarding in the end. I also had the opportunity to work at the UC Davis Winery. It was enlightening to witness and participate in the research that takes place here. It demonstrated to me how UC Davis VEN is a leader in the industry and it made me very proud to be a part of the program. This previous summer (2020) I worked at Three Sticks in Sonoma. Through making vineyard-designated wines, I began to understand and appreciate the influence of the land on the wines that they produce.  
After I graduate I want to continue to learn how to craft exceptional Pinot Noirs. I hope to spend additional time in Sonoma as well as Oregon. I would also like to work a harvest abroad in New Zealand making Sauvignon Blanc. Wherever I end up, I feel grateful to be working towards a career in beautiful vineyard settings, amongst driven, passionate people, for the creation of an endlessly complex and rewarding product.  
Being a student during the pandemic is somewhat disheartening. I am disappointed that the distinguished wine labs, which I have been looking forward to for my entire college education, are removed from the setting of the winery and the laboratories and are now taking place in my bedroom on my laptop. I miss the hands-on experience that these classes typically offer.  Despite the complications, it is very evident that our professors are working tirelessly to alter the classes to make them engaging and educationally valuable. 
As the president of DEVO (Davis Enology and Viticulture Organization), I am being challenged to creatively reconstruct the organization so that it continues to provide a social platform for students to expand their education in wine and build community. Our focus during this time is to provide students in the department with activities to build community and enable them to build their own support system, which is now more important than ever. We are doing this through online gatherings and games, as well as small local immersion trips to nearby wineries.  
Category