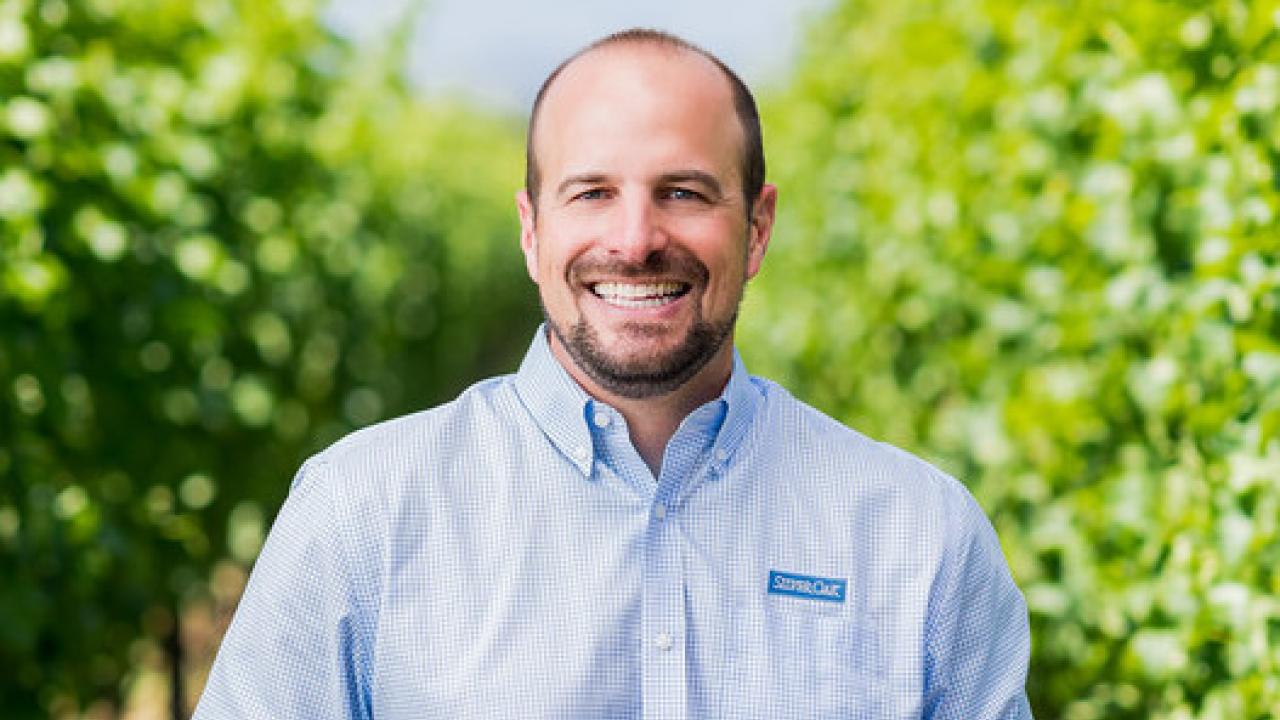 Nate Weis graduated from UC Davis with his MS in Viticulture & Enology in 2006. He is currently the Vice President of Winegrowing for Silver Oak Cellars, Twomey Cellars, and Timeless Napa Valley.  
 
What have you been up to since you graduated?  
My wife, Sally (UCD MA Education 2003), and I started a family and now have 4 children and live in Napa. I started my career after graduation and had stops at Etude Wines, Patz & Hall Wine Company, and Antica Napa Valley (the Antinori family of Tuscan fame's outpost in the Napa Valley). I started with Silver Oak in 2014 as a succession plan for a fellow UCD V&E alumnus, Daniel Baron, who was set to retire after 23 years with the company. In 2012, I went back to school and attained an MBA in Wine Business from Sonoma State University. I serve on various boards and committees for industry organizations and groups, and also teach classes at Napa Valley College as an Adjunct Faculty. 

Do you feel your UC Davis experience benefitted your career?  
In addition to just being a great place to spend a few years as a graduate student, the foundation of knowledge and critical thinking about grapegrowing and winemaking has always served me well as I approach my work and solve problems. There is a strong network of V&E alumni up and down the west coast (not to mention the world) that has led to many opportunities for business relationships and collaboration in an industry where there is so much energy around working together to tackle common problems. I've also had the privilege of employing many UC Davis alums in various capacities who always bring a lot to the table.  

What is the most rewarding part of being in the industry/your job?  
There's something very rewarding about observing the way our customers interact with our wines. We get stories from them about being the brand that turned them on to fine wine and they celebrate births, graduations, nuptials, new jobs, and so on with a bottle. They also tell us about the connections with people they love over our wines, and the most poignant stories are about loved ones who have passed being remembered and celebrated each time they open a bottle, and how enjoying Silver Oak was "their thing" with that person. I feel like we're adding some joy and love to the world with each bottle that leaves the cellar, and the beauty of wine is that it transports us all to another place and time. My father is also a winemaker by trade (he also attended UC Davis and studied under the legendary Ralph Kunkee) and when he retired recently, I found some wines at auction that he made 30+ years ago. We opened them together and I got to hear him tell stories about those vintages and his memories of what the Napa Valley was like and the people who were involved. It was like a liquid time capsule. The most rewarding part of my specific job has been participating in expanding our business into new (to us) frontiers and being part of some visionary projects like building a winery in Alexander Valley with unparalleled sustainability goals. 
 
What are some of the most difficult challenges you have faced in the grape or wine industry?  
We've certainly had our fair share in the last 4 years, between wildfires, economic headwinds for the wine business, and a rapidly changing sales environment. Our biggest challenge is remaining nimble and flexible as a business in the Agricultural sector, which doesn't really lend itself well to rapid changes. Many of the wines we are selling today were grown and made five years ago, so we always have to find the balance between adapting to our current environment and staying the course with our big-picture strategy. 
 
Is there anything you would like to share with current UCD V&E students?  
You're studying and learning from some of the finest at what I, biasedly, believe to be the finest learning institution around for our field. But, whatever your goals and aspirations are for your career, the only constant you'll find as you travel your path is that you can't do it alone. There's an awful lot that goes into operating a successful and sustainable vineyard and/or winery, and technical knowledge and raw talent are only a small part of it. Stay open to learning, stay humble, and always work on developing new skills and knowledge. To quote Bill Nye, "everyone you will ever meet knows something you don't." 

How has the pandemic affected you? 
Like everyone, I have had to become accustomed to using technology I barely knew existed (and frankly didn't care for) prior to early this year: teaching classes, holding meetings, and conducting tastings and wine dinners virtually through video conference platforms. COVID forced us to closely examine everything we do in the wineries and vineyards to ensure everyone's safety, which I, being someone who doesn't mind shaking things up every now and then, actually embraced. We've found some improvements and efficiencies that we'll carry forward even when the all-clear is given. Personally, I feel terribly for the young people who are losing the opportunities for social interactions with their friends and classmates, but, once those opportunities return, my hope is that they'll never be taken for granted again. 
 
What is one unique thing about you? 
I don't think there's anything unique about me in the strict definition of the word, but one thing people are always awed to learn is that our first three children were triplets. They were, of course, harvest babies as well, so the first few months of their lives are definitely a blur. They're now happy and healthy 12-year-olds. Maybe one funny unique thing about me is that, out of high school, I wanted to attend the US Air Force Academy to become a pilot and went through the entire process to apply, including getting a nomination from a Congressperson and undergoing fitness exams at Travis AFB. However, I procrastinated on my application essay and wrote it in a hurry late one night just before it was due. In it, I mentioned all the reasons I wanted to fly and included that I loved the movie "Top Gun". In retrospect, I shouldn't have been surprised that I was not admitted because, of course, "Top Gun" is a movie highlighting Naval Aviators. Wrong branch! The lesson is, of course, always proofread. 
Category