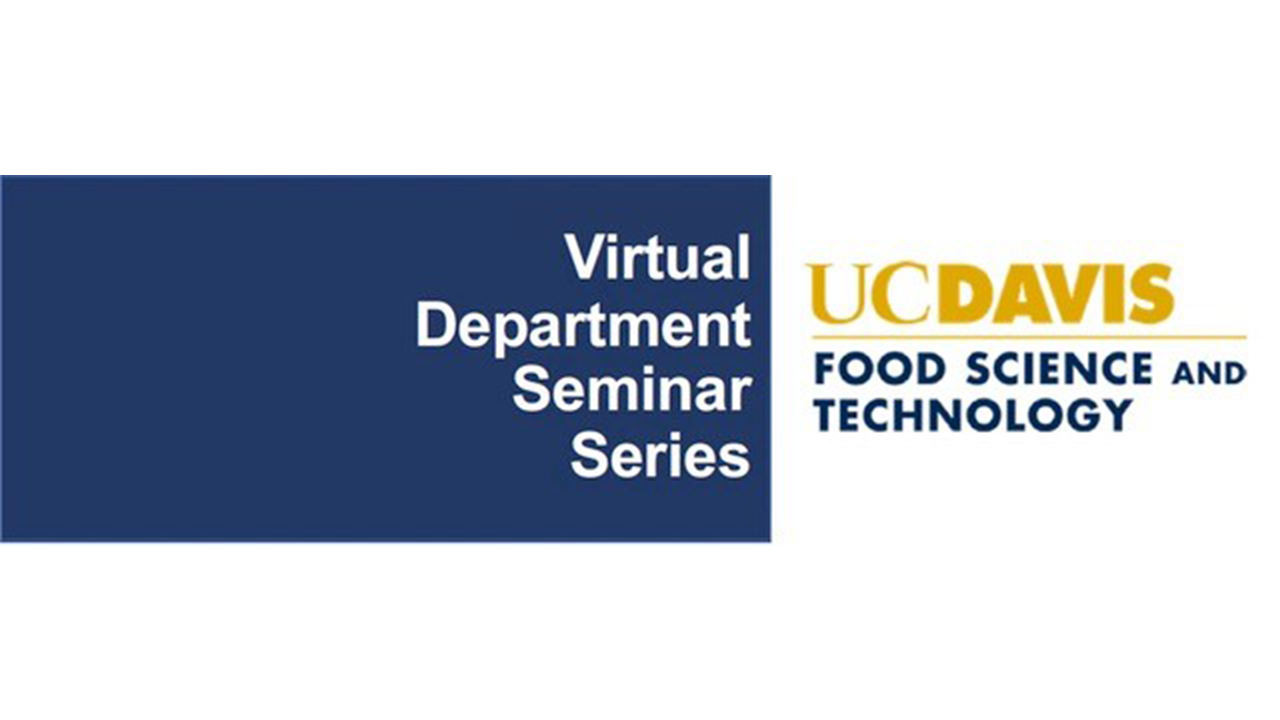 Here is the schedule of Food Science and Technology weekly department seminars for the remainder of the Spring 2021 quarter.   (Please email Zann Gates at zgates@ucdavis.edu to get the Zoom link if you don't already receive it via internal communication channels.) All presentations are at 4:10 pm - 5:00 pm Pacific Time.  
Wednesday, April 21, 4:10 PM
Zachery Lewis, Chief Science Officer, Synbiotic Health, https://synbiotichealth.com
"Producing Purposeful Persisting Probiotic Products: Cultivating better microbiome science in the dietary supplement industry"
For the remainder of the quarter, first year Food Science graduate students will present their planned research projects; the schedule is below. 
Wednesday April 28, 4:10 PM 
Tana Hernandez Barrueta, Ph.D. student, lab of Dr. Nitin Nitin, "Novel ternary gel of whey protein, starch and probiotics: Characterization and applications"
Austin Weber, Ph.D. student, lab of Dr. Elizabeth Maga, "Oral therapeutics, milk augmentation and gut health"
Wednesday May 5, 4:10 PM
Ashlyn Lightbown, Ph.D. student, DiCaprio lab, "Understanding the role of produce surface waterscape on dispersion and removal of nanomaterials and the impact on food safety"
Natália Ribeiro, Marco lab, "Evaluating and testing lacto-ferments across the country"
Wednesday May 12, 4:10 PM
Sophie Held, M.S. student, Fox lab, "Elucidating the relationship between β-glucan and β-glucanase in barley malt."
Minami Ogawa, Ph.D. student, Block lab, "Filamentous fungus biomass as a novel biomaterial for cultured meat microcarriers"
Wednesday May 19, 4:10 PM
Xiran Li, Ph.D. student, Luxin Wang lab, "Photosensitizer menadione sodium bisulfite (MSB) as wax supplement for the control of pathogenic microorganisms on fruit and vegetable surfaces"
Zhuosheng Liu, Ph.D. student, Luxin Wang lab, "Transcriptomic analysis of pathogenic Vibrio parahaemolyticus survived at different oyster harvesting temperatures"
Wednesday May 26, 4:10 PM
Emily Newman, M.S. student, Fox lab, "Spent grain for energy storage applications"
Jasmin Yang, Ph.D. student, Bell lab, "Developing a bio-guided approach for the extraction of protein and bioactive peptides from black beans"
Category