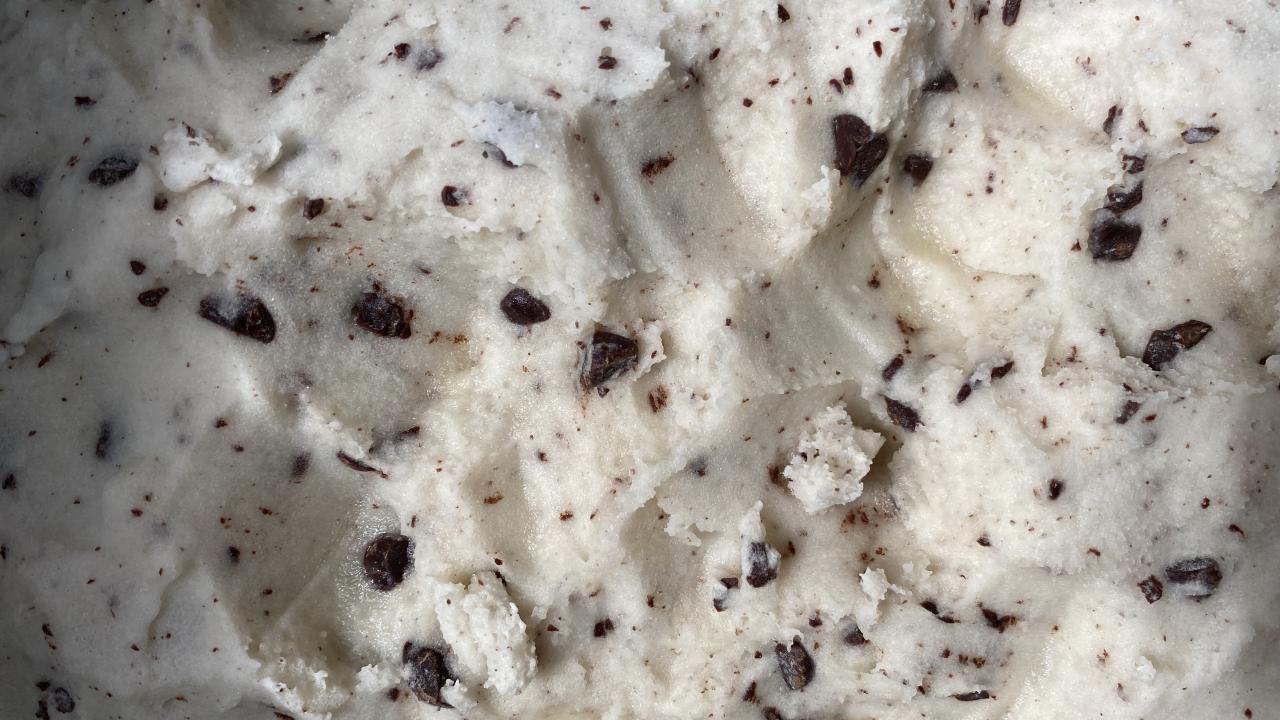 By
Tiffany Dobbyn / College of Agricultural and Environmental Sciences, originally posted 3-11-22
Most people love eating a scoop of ice cream, but it's not a treat that everyone can enjoy. A group of students who studied in the Department of Food Science and Technology created an innovative frozen dessert that is free of dairy, nuts and soy, making it something that people who have food allergies can savor.
UC Davis alums Katrina Fernandez and Josh Bjurman, who both graduated in 2020 with degrees in food science, helped come up with a product they call "Faba," an ice cream made from aquafaba, which is essentially the liquid contained in cans of chickpeas. Most people discard that water, but Fernandez and Bjurman say it's packed with carbohydrates and protein. When the aquafaba is whipped, the proteins trap air and form a light, fluffy foam that looks just like a meringue. Bjurman says aquafaba can be used as a vegan alternative to egg whites, and now as a base for ice cream.
"Allergens like milk, nuts and coconut are often found in many vegan desserts, and people who are unable to consume those types of allergens don't really have any options available," Bjurman said. "We wanted to fill that gap in the market by creating something allergen-free."
A local mom whose son is allergic to dairy, tree nuts and soy helped spark the idea to develop a sweet treat he could enjoy.
"She wanted to give her son something delicious, but there wasn't something available on the market," Bjurman said. "That got us thinking that we can do something. We can make people's lives better by giving them tasty food that doesn't hurt them."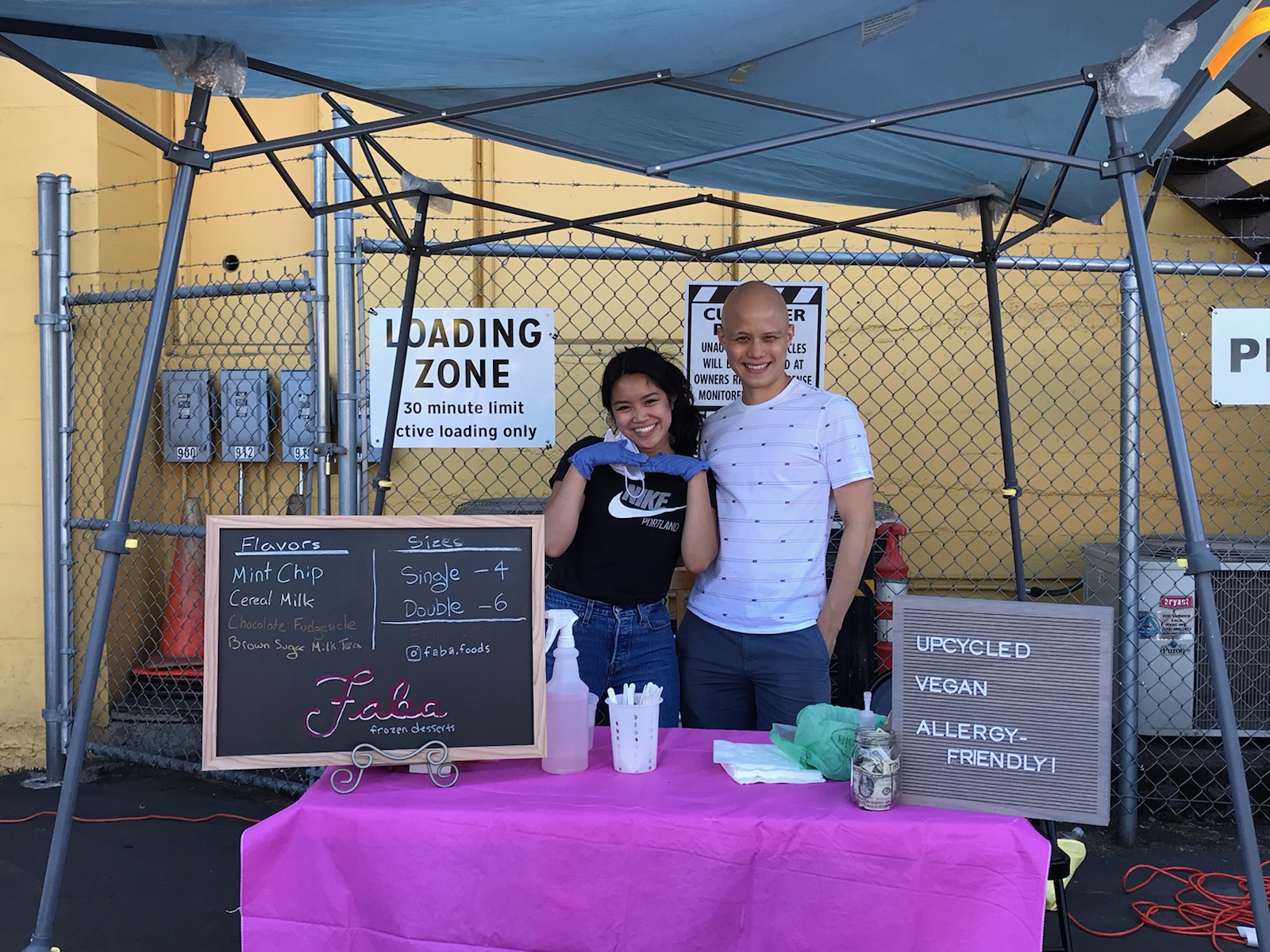 Upcycling water from canned chickpeas into ice cream
While developing the ice cream, Fernandez, Bjurman and the group learned that by adding natural ingredients like citric acid, sugar, vanilla and additional chickpea protein to the whipped aquafaba helped stabilize and prevent the ice cream from collapsing back into its liquid form. Fernandez said during the experiment phase, they went through a lot of cans of chickpeas.
"Early on, we were buying 10 plus cans of chickpeas at Trader Joe's in one grocery trip," she said. "The workers would ask, 'Are you making a lot of hummus?' and we'd say, 'No, we're making ice cream.'"
They later partnered with local restaurants which gave them unused aquafaba that would otherwise be poured down the drain. The ice cream creators were happy that turning the waste product into a valuable, repurposed ingredient, helped prevent food waste.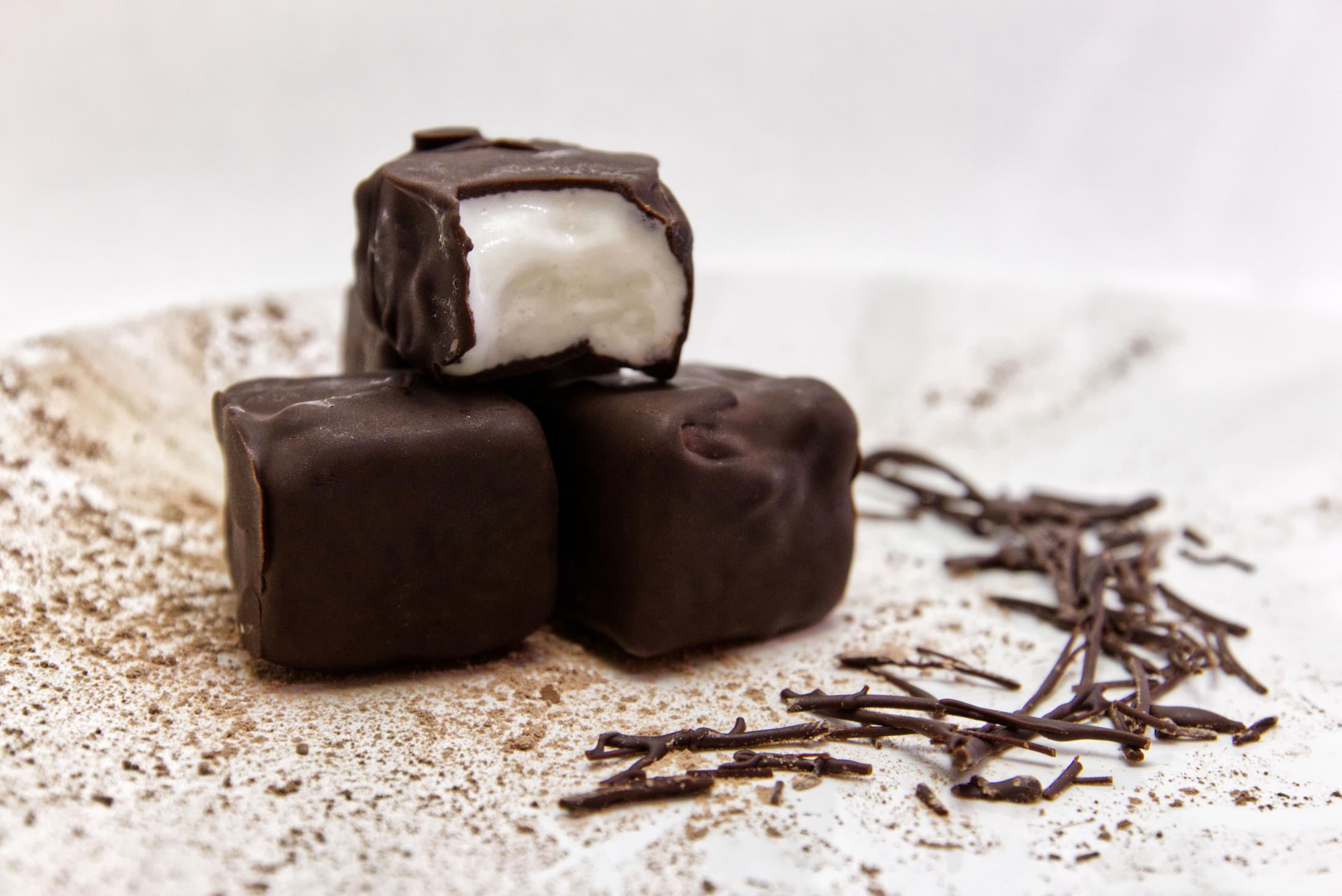 How does it taste?
Initially, they developed a vanilla, bite-sized aquafaba ice cream cube coated in chocolate. They also created pints of the ice cream, too. Fernandez says aquafaba ice cream is more airy and not as dense as traditional dairy ice cream with a texture comparable to gelato. They've created a few different flavors, including mint chip, chocolate fudgsicle, brown sugar milk tea and cereal milk. But how does it taste?
"It tastes good," Fernandez exclaimed. "I think other people think it tastes good, too."
Faba excelled when put to a taste test at the 2020 IFTSA & Mars Product Development Competition. Fernandez, Bjurman and their team won second place for the chocolate covered aquafaba ice cream bites.
"Within the food science world, that competition is a pretty big deal because it's so rigorous," Fernandez said. "Not only are you formulating the product, but you're thinking about a food engineering plan and a marketing plan, so it's a very holistic view of bringing a new product to market."
In 2020, they were accepted into the PLASMA startup accelerator program at UC Davis and were announced the runners-up in the "top company" category during a demonstration event (watch their product pitch here). Last year, Fernandez and Bjurman officially filed Faba as a limited liability company. They produce small batches to sell at small events in the Portland, Oregon area where they now live. They hope someday to produce on a larger scale so even more people can enjoy the frozen treat.
"For us, our dream is to get this product in grocery stores and to offer an additional resource for people who need it," Fernandez said. "There's nothing really in the ice cream world yet that offers that same allergen-free option. There are options like sorbets, but some people want something comparable to dairy ice cream, so we hope to offer that to people."
Media Contact
Katrina Fernandez, UC Davis graduate, kfernandez@ucdavis.edu
Josh Bjurman, UC Davis graduate, jlbjurman@ucdavis.edu
Tiffany Dobbyn, College of Agricultural and Environmental Sciences, tadobbyn@ucdavis.edu
Category