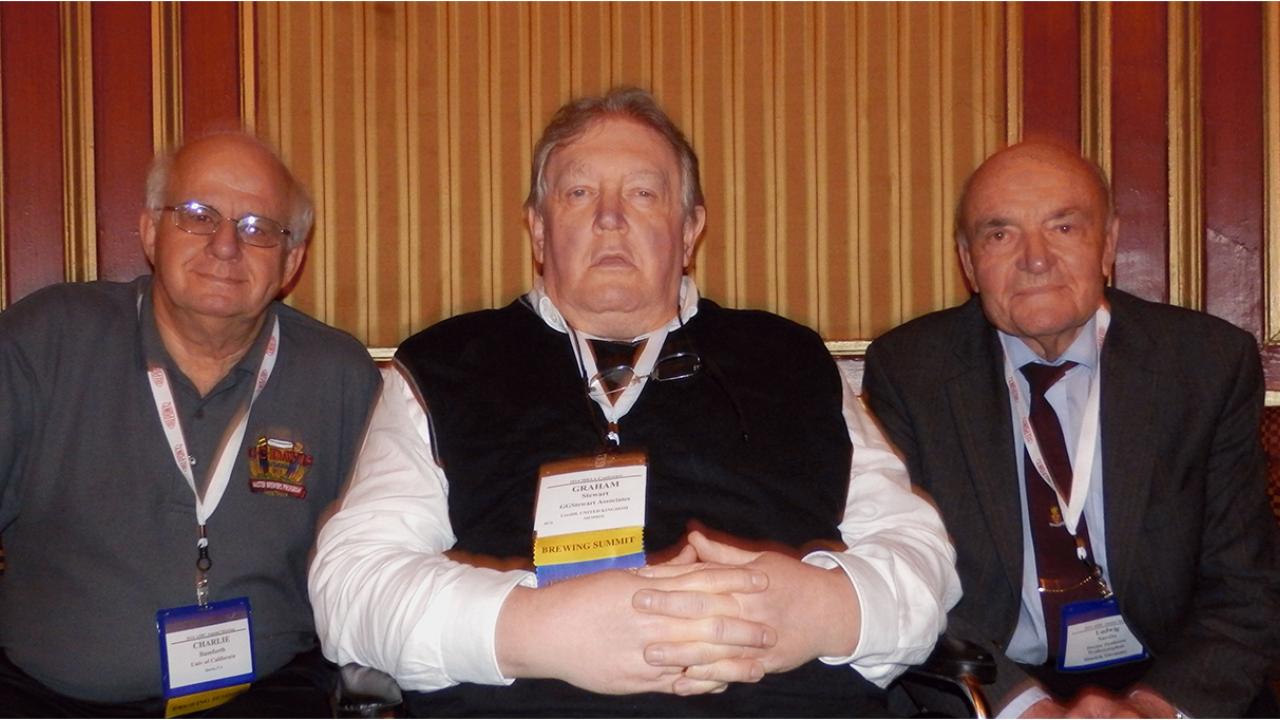 Background
The new award is named after Professors Graham Stewart and Charlie Bamforth. It is most appropriate that this award be named jointly as during the 1990s and 2000s both ran a very successful series of educational symposia to aspiring brewing students in Africa, Asia, India and the Americas. Both have written and edited numerous fundamental malting, brewing and distilling texts that are now routinely referred to by students. These activities were in addition to their primary teaching and research commitments at the International Centre for Brewing and Distilling (ICBD), Heriot-Watt University, Edinburgh (Graham Stewart, 1994-2007) and the University of California-Davis (Charlie Bamforth, 1999-2019). Many brewers and distillers now practicing the art owe their start or a substantial boost in their careers to these educational contributions. In addition, both Charlie and Graham have had distinguished academic research careers. Both have also been Presidents of the Institute of Brewing and Distilling (IBD). Not surprisingly, they have both been awarded the Horace Brown Medal for outstanding research contributions to brewing and distilling. This demonstrates the nexus between excellent teaching and research.
Scope
Brewing and distilling education in all its complexity is the foundation stone of the activities of the Institute of Brewing and Distilling. This award seeks to identify malting, brewing, distilling, packaging and cider educators who have made sustained and significant contributions to the global education of brewers and distillers. These contributions to brewing and distilling education may include: 
Fostering, instructing and administering Certificate, Diploma, Master or Doctoral programmes.
Supervision and tutoring of degree, higher degree and postgraduate candidates,
The management and delivery of relevant short courses, workshops and symposia,
A substantial commitment to the IBD's professional qualifications in terms of tutoring and conducting/setting/marking examinations,
Scholarly articles in publications such as the Brewer and Distiller International to inform IBD member of the underlying principles of key technology, processes or innovations in the field.
In all likelihood, those selected for this award will make contributions to most of the above categories. 
Presentation
The winner who receives the Stewart-Bamforth Educators Award will be presented with the Stewart-Bamforth medal, invited to give a lecture at an appropriate event (section convention, section meeting, section dinner or other event of suitable relevance) to further inform the members of the IBD on a general topic of their choosing. The winner will also name an early career member who will receive a bursary to assist in their education. 
Eligibility
This award is open to all members; application is by selection not submission. 
Selection Criteria for the Stewart-Bamforth Award
The Awards Committee will aim to make a recommendation at the December IBD Council meeting in the appropriate year.
The nominee to be selected will be an eminent person who has contributed significantly to the advancement of the educational interests of the IBD.
The Award is envisaged to be presented every three years or deferred if there is not a suitable recipient in a given year.
Expenses for the winner to present at a suitable IBD forum to be paid by the IBD.
The winner is presented with an IBD medal (comparable to the Horace Brown Medal).
Category