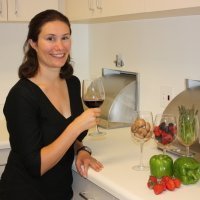 Dawn Chapman (National Foods laboratory) will be featured on a new Television Show Called You Can't Lick Your Elbow. 

You Cant Lick Your Elbow: Battle of the Senses 
Air Date: Monday, March 16 @ 10pm ET 
Nat Geo Channel 

http://channel.nationalgeographic.com/channel/you-cant-lick-your-elbow/episodes/battle-of-the-senses/ 

Kudos to Dawn!!!! 
_______________________________________ 

Dawn Chapman, Ph.D 
Technical Director, Sensory & Consumer Science 

Dawn has always loved exploring data to make the underlying stories come to life. As the Sensory & Data Project Manager at The NFL, she designs studies to integrate consumer assessment with trained descriptive panel evaluations. Her in-depth understanding of descriptive and consumer response interpretation, complex study design, and modeling techniques allow her to effectively merge objective sensory results with consumer insights to provide greater learning. She has a knack for seeing what the numbers really mean and explaining it to both technical and non-technical audiences. 

Dawn studied mathematics and chemistry at DePauw University and received a Ph.D. in food science with a sensory emphasis from UC Davis. Dawn's doctoral research focused on the relationships between vineyard yield and Cabernet Sauvignon flavor. While at Davis, she helped teach the inaugural year of the UC Davis distance learning Applied Sensory Science and Consumer Testing certificate program. 

Outside of the office, Dawn enjoys creatively developing recipes around her husbands food allergies and staying active by swimming, cycling, backpacking, and chasing after a toddler.
Category