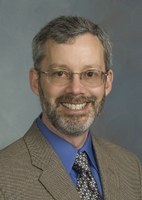 Dr. Michael McCarthy has been elected a Fellow of the Institute of Food Technologists! This is a tremendous achievement, as noted on the IFT website: 

"The IFT Fellow designation is an honor bestowed upon an IFT member by their peers, recognizing exemplary achievement in the science of food profession. In a given year, no more than 0.3 percent of the professional membership is eligible, and even fewer than that will earn this honor. 

This is a unique professional distinction given to individuals with outstanding and extraordinary qualifications and experience for their contributions to the food science and technology field. The 2016 Class of Fellows will be recognized at the IFT16 Fellows Recognition Forum on July 16, 2016." 

On the podium at the Awards Ceremony at the national meeting in Chicago on Saturday, July 16, FST will have 3 of our faculty: Dr. McCarthy as well as award recipients Dr. Carl Winter (Bernard Oser Ingredient Safety award) and Dr. Bruce German (Gil Leveille award). In addition, Dr. Chris Koh, who did his BS here at UCD in Chemical Engineering and is an active member in the Center for Advanced Processing & Packaging, was awarded the Industrial Scientist award. 

Congratulations to all and GO UC DAVIS! 
Category