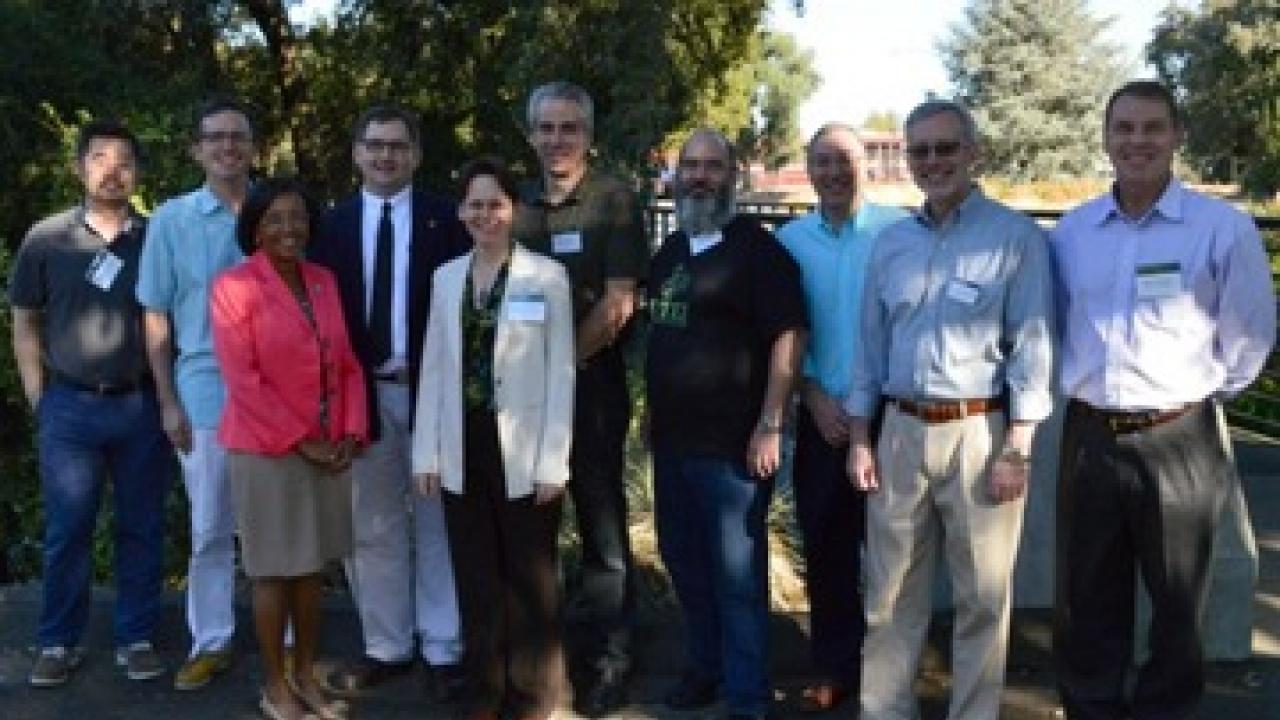 Kyria Boundy-Mills, curator of the Phaff Yeast Culture Collection in the Food Science and Technology department, and Lucy Joseph, curator of the Wine Microbe Collection in the Viticulture and Enology department, hosted the fall 2014 meeting of the US Culture Collection Network at UC Davis on September 24-25, 2014. 

The mission of the US Culture Collection Network is to facilitate the safe and responsible utilization of microbial resources for research, education, industry, medicine, and agriculture for the betterment of human kind. The purpose of the meeting on September 24 was to get U.S. collection curators and collection users together to discuss ways to improve interactions, to better meet their common goal: advancing U.S. research. The meeting continued on September 25 with a smaller group consisting of collection curators and their supporters, to process the feedback from the larger group event and plan future strategies. 



Microbial culture collections are an essential component of the infrastructure of life science research, biotechnology, and the emerging global bioeconomy. Like every service organization, culture collections should ask their customers periodically, What do you need? How can we serve you better? A dozen US microbial culture collections asked a selected group of users these questions, and received very valuable feedback that will help them to provide materials and services that will help their users make use of emerging technologies and expand their capacity for discovery. Conversely, the researchers learned about services and materials already available from culture collections, and the inner workings of culture collections. 

Curators of a broad variety of collections were present, most of whom gave either oral or poster presentations to showcase the history, holdings and uses of their collections: 
Peter Countway, Bigelow Laboratory, National Center for Marine Algae 
David Nobles, University of Texas at Austin, The Culture Collection of Algae 
Richard Castenholz, University of Oregon, and Sherry Cady, Pacific Northwest National Labs, Culture Collection of Microorganisms from Extreme Environments 
Daniel Brown, University of Florida, The Mollicutes Collection 
John Wertz, Yale University, E. Coli Genetic Stock Center 
Lucy Joseph, University of California Davis, Wine Microbe Collection <http://wineserver.ucdavis.edu/industry/enology/culture/index.html> 
Kyria Boundy-Mills, University of California Davis, Phaff Yeast Culture Collection <phaffcollection.ucdavis.edu> 
Kevin McCluskey, University of Missouri at Kansas City, Fungal Genetic Stock Center 
David Geiser, Pennsylvania State University, Fusarium Research Center 
Mark Wolcott, Department of Defense Unified Culture Collection 
Dan Lindner, USDA Forest Service, Center for Forest Mycology Research 
Jules Cho, University of California Berkeley, Algal and Fungal Teaching Collection 
Matthew Ryan, CABI, United Kingdom, Fungal Collection 
Researchers presented results utilizing large numbers of microbial strains in genome sequencing projects including the Thousand Fungal Genomes Project (Jason Stajich, UC Riverside), the 100K Pathogen Genomes Project (Soraya Foutouhi, UC Davis) and the Genomic Encyclopedia of Bacteria and Archaea (Jonathan Eisen, UC Davis and Supratim Mukherhee, DOE Joint Genomes Institute), and several other projects. 

Insights gained from the meeting include: the importance of preserving biodiversity for future research, preserving strains used in genome sequencing and other research, accessibility of data related to strains such as source information and physiological characteristics, the broad areas of expertise that culture curators must possess, quality control practices, having a succession plan for a collection, long-term planning, visibility, and additional services collections should consider offering to better serve the needs of researchers.
Category