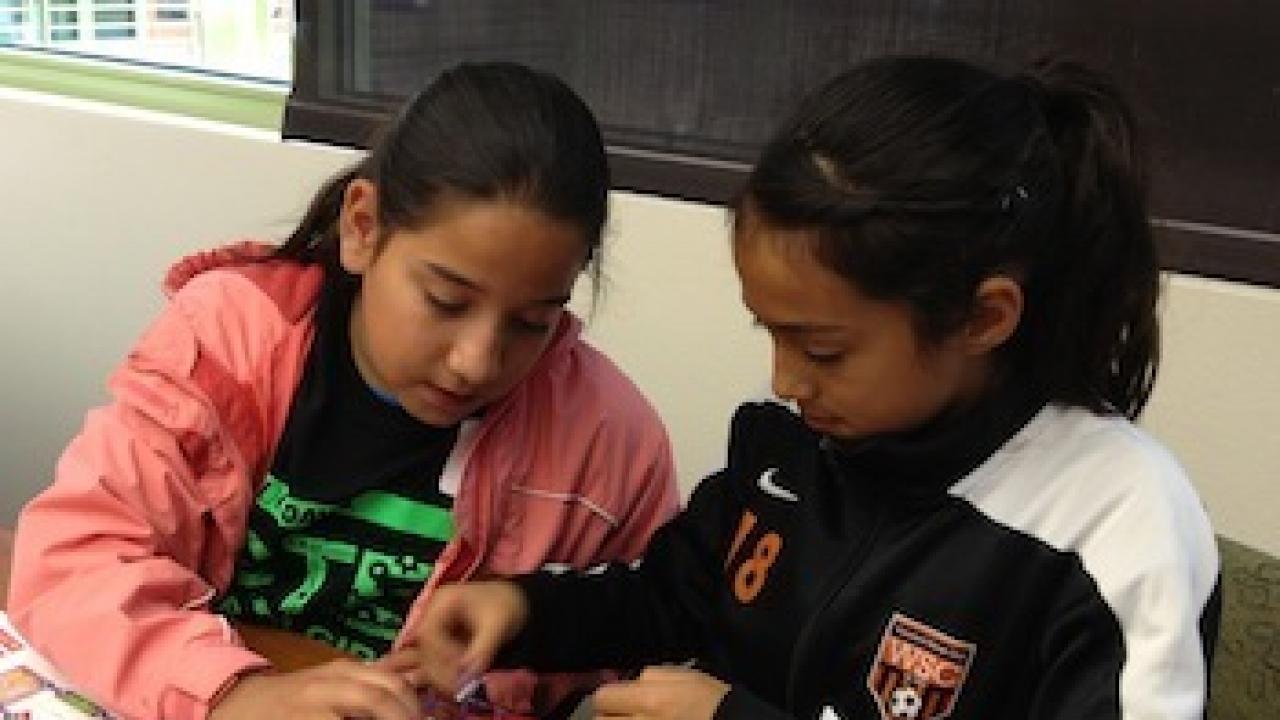 Local girls spent a day immersed in the wonders of science when the UC Davis College of Engineering presented STEM for Girls 2013 (Science, Technology, Engineering and Math) from 9 a.m. to 3:30 p.m. on Saturday, April 6, 2013. The annual event, designed to inspire young girls with the exciting possibilities of various engineering careers, hosted 60 students from four area schools: Beamer Park Elementary School, in Woodland; and Fern Bacon Middle School, Riverbank Elementary School and Will C. Wood Middle School, all in Sacramento. 

The event was coordinated by Tina Jeoh, an assistant professor in the UC Davis Department of Biological and Agricultural Engineering; Mari Knuth-Bouracee, assistant director for outreach at the UC Davis Women's Resources and Research Center (WRRC); and Manpreet Kaur, a Women for Science and Engineering (WISE) intern at WRRC. 

In the spring of 2011, the National Science Foundation presented with Jeoh with an early career development award designed to fund both her research and outreach activities. Mindful of the gender disparity in all engineering fields, she elected to continue the good work achieved by the WISTEM Girls Fair (Women in Science, Technology, Engineering and Math), a one-time event mounted at UC Davis in April 2010 by WRRC and ISIS, a local program developed to interest and instruct middle-school girls in technology. 

Jeoh and Knuth-Bouracee co-sponsored their debut STEM for Girls Day on May 5, 2012. Armed with the knowledge of what had worked and what hadn't they were ready to make this year's "sequel" even more successful. 

Registration began at 8:30 a.m. in the Student Community Center's spacious multi-purpose room. Each girl was checked in and handed a name tag, a neon green-on-black logo T-shirt and a brochure of the day's activities. With very few exceptions, all the mentors present were women, the idea being to let the girls see older versions of themselves throughout the day. 

Knuth-Bouracee began the activities by introducing the clever gimmick she employed whenever the group grew too noisy or threatened to become chaotic. "When I say 'STEM,' " she instructed, "you say 'girls.' Got that?" 

"STEM," she commanded. 

"Girls!" the young audience responded. 

"STEM!" Louder, this time. 

"GIRLS!" 

"We have three goals today," Jeoh then explained. "One, we want you to have fun. Two, we want you to get to know us: your team leaders, all the volunteers and workshop instructors. Ask them why they came here, to UC Davis. What did they want to be, when they were girls like you? Third, we want you to see what our world looks like." 

The rest of the morning was occupied by hands-on workshops into which the girls cycled during three half-hour sessions. The workshops were run by female graduate students and undergraduates from various College of Engineering departments. 

The morning's most popular activity featured electronic "snap circuit" kits filled with color-coded components that could be arranged to create working electronic devices. No messy wires, screwdrivers or other tools were required; as the kit's name suggests, the parts snap easily onto a plastic base, and one need only follow the instruction guide to build a gadget. 

The helpful workshop leaders explained the concepts in simple terms, and started by encouraging their young visitors to guess what circuits are used for. 

"Electricity?" one girl offered. 

"Absolutely," came the reply. "And what does electricity do?" 

Momentary silence. "Electricity provides power to things," the mentor continued. "Like things you plug into the wall. Who can give me an example?" 

"Phone chargers!" another girl answered. 

Another workshop, devoted to food science, featured a quick-and-dirty approach to making ice cream. Now working in teams of two, the girls carefully filled a small Ziploc bag with half a cup of milk, half a teaspoon of vanilla, and a tablespoon of sugar. This sealed bag then was placed inside a larger bag, also sealed, that contained four cups of ice and half a cup of salt. 

"In food science, we do get to play with our food," the workshop leader explained, to a chorus of giggles, "so I want you to shake those bags hard!" 

Once the shaking had allowed the resulting ice cream to set, the girls tasted the results of their efforts while the session leaders explained the role of each ingredient. 

"What's in the milk?" one of the grad students asked the group. 

"Grass," one girl replied. Then, when the grad student looked blank, the girl elaborated: "Cows eat grass." 

So yes, the deeper chemical principles may have eluded the young scientists, but as Jeoh had insisted earlier that morning, the primary goal was to have fun. 

The noon meal brought everybody back to the multi-purpose room, where the girls received bag lunches and chatted enthusiastically about the morning's activities. Undergrads and grad students were strategically placed at each table, in order to share details about their majors, and their activities at UC Davis. 

The afternoon's demonstrations and lab tours, again divided into half-hour sections, featured visits to the Department of Civil and Environmental Engineering's Center for Geotechnical Modeling, Haring Hall's Human Gross Anatomy Lab, the Student Farms, the Robert Mondavi Institute, the Bohart Entomology Museum, and Bainer Hall's Composite Materials Lab, with its "Tower of Death." 

The stand-out highlights were the bugs and beasties in the Bohart Museum, which drew plenty of ooos and ahhs; and the Tower of Death, where Professor Valeria La Saponara demonstrated the ability of various composite materials to withstand the impact of a large weight dropped from a height of 8 feet. The most dramatic test involved a watermelon perfectly sized to fit inside a bicycle helmet, enabling the fruit to emerge unscathed; followed by the watermelon without the helmet ... which didn't survive. 

"And that," one of the teacher chaperones said, to further drive the point home, "is why you should always wear your bicycle helmets!" 

Everybody met back at the Student Community Center for the day's final activity. As cream and other ingredients were stirred into large metal bowls, Jeoh and a colleague circulated throughout the room and carefully poured liquid nitrogen into the bowls. With a bit more stirring, the ingredients instantly froze into delicious ice cream, which the girls then covered with chocolate sauce and other available sundae toppings. 

While enjoying this tasty dessert, the girls engaged in one final activity: a five-question survey asking them (as one example) to cite the "awesome-est thing" they had learned; and asking, as well, if they wanted to grow up to become a scientist, technologist, engineer or mathematician. 

Jeoh, although tired by the end of what had been a long day, was quite pleased. 

"Outreach activities like this are very important," she said. "Engaging students of all backgrounds with STEM subjects is critical, if our country expects to keep our leadership position in the global economy. We can't afford to ignore the latent capabilities of half our population. We'll need the contributions from girls like these. 

"Our hope is to attract more girls to STEM fields by having them participate in fun, engaging and inspiring activities. Further, by involving graduate and undergraduate women in these activities, we're creating a network of mentors for young technologists. 

"After all, some of these girls will grow up to become the future leaders of our society."
Category