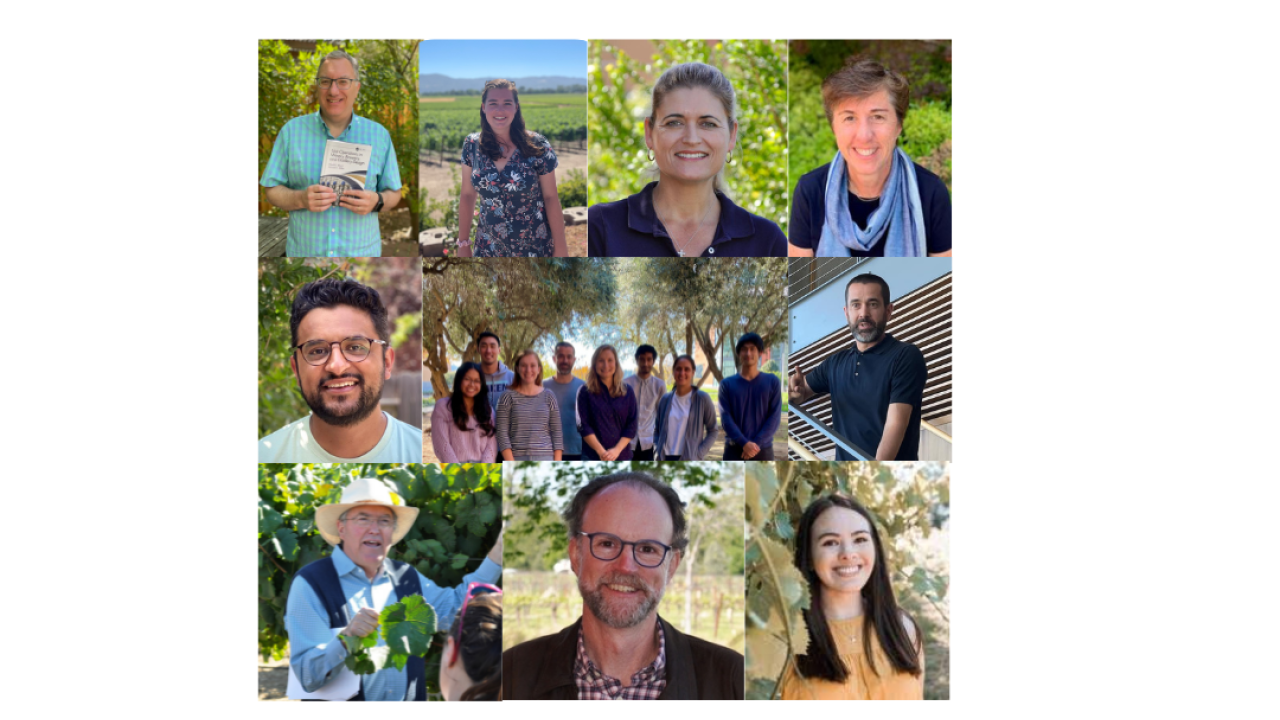 David Block, Chair & Professor, Department of Viticulture and Enology at UC Davis, and Konrad Miller, Adjunct Professor, Department of Viticulture and Enology at UC Davis, have won a Special Mention from the OIV - International Organisation of Vine and Wine in their 2022 book awards for their textbook: Unit Operations in Winery, Brewery, and Distillery Design. A ceremony will take place in France on September 30th. A list of winners can be found here: https://www.oiv.int/en/oiv-life/edition-2022-of-the-oiv-awards-the-rewarding-of-the-international-jury 
---
Luis Diaz-Garcia, Assistant Professor, has been named a CAMPOS Faculty Scholar for 2022-23. The Center for the Advancement of Multicultural Perspectives on Science (CAMPOS) was established in 2012 to expand the presence of women and underrepresented faculty in STEM at UC Davis. CAMPOS Faculty Scholars have a clearly articulated vision of how their work at UC Davis will contribute to the University's mission of serving the needs of the diverse student population which closely reflects the population of the state of California. For more information about the program, visit: https://diversity.ucdavis.edu/campos-nominations. 
---
Lauren Marigliano, Ph.D. student, received the award for best student flash presentation at the XIVth International Terroir Congress/2nd ClimWine Symposium in Bordeaux, France for her presentation, Photo-selective shade films mitigate heat wave damage by reducing anthocyanin and flavonol degradation in grapevine (Vitis vinifera L.) berries.  
---
Congratulations to the Montpetit lab! They have been awarded the following major grants: 
NSF-MCB – A four-year award (2022-2026) with a total value of $1,182,158. 

NIH-NIGMS – A five-year award (2022-2027) with a total value of $2,207,218. 
The work supported by the grants is as follows: The function of a cell requires use of information encoded in pieces of DNA called genes. In yeast, and other organisms including humans and plants, genes are found in a compartment called the nucleus. To be used by the cell, the information within genes must be copied into an intermediate molecule (RNA) to direct the production of proteins in another compartment, the cytoplasm. Proteins are critical components of a cell that do most of the work that allows a cell to live and function. When a cell changes function or needs to adapt to a new environment, the proteins must also change. This occurs by the cell altering what genes are being used to make the proteins. In the work supported by these grants from the National Science Foundation and National Institutes of Health, the Montpetit laboratory aims to understand how the information held in genes is transported to the cytoplasm to make needed proteins. Understanding how this process works is central to knowing how any organism functions within a changing environment. This knowledge is needed to understand earth ecosystems, agricultural production, and the use of cell systems to make industrial products. The team's research goals also include engaging a diverse group of students to provide training, skills, and experiences in scientific research to promote their participation in STEM careers. 
---
Vice-Chair and Cooperative Extension Specialist in Enology, Anita Oberholster, has been elected second vice president for the American Society of Enology and Viticulture (ASEV). Director of Industry Relations, Karen L Block, has been elected as a director of the American Society of Enology and Viticulture (ASEV). 
---
Vice-Chair and Associate Professor, Ben Montpetit, was awarded the 2022 Departmental Teaching award by the DEVO students. 
---
Professor Emeritus Andrew Walker has been awarded a Lifetime Achievement Award from the San Joaquin Valley Winegrowers Association. The award was presented to Andy at the Annual Research Roadshow in Fresno on June 2, 2022. The Lifetime Achievement Award is given for a lifetime of "positively contributing to the health and well-being of the San Joaquin Valley Wine and Grape Industry." 
---
Professor Emeritus Andrew Waterhouse has been appointed to the Board of Trustees of the Society of Chemistry and Industry. Established by Royal Charter in 1881, SCI is an inclusive, multi-disciplinary and multi-science forum connecting scientists and business people. 
---
Maria Zumkeller, MS, received an award for best student oral presentation at the 2022 American Society of Enology and Viticulture National Conference in San Diego for her presentation, No-till Systems and Perennial Cover Crops Show Minimal Effects on Vineyard Soil Microbiome Composition. 
Category