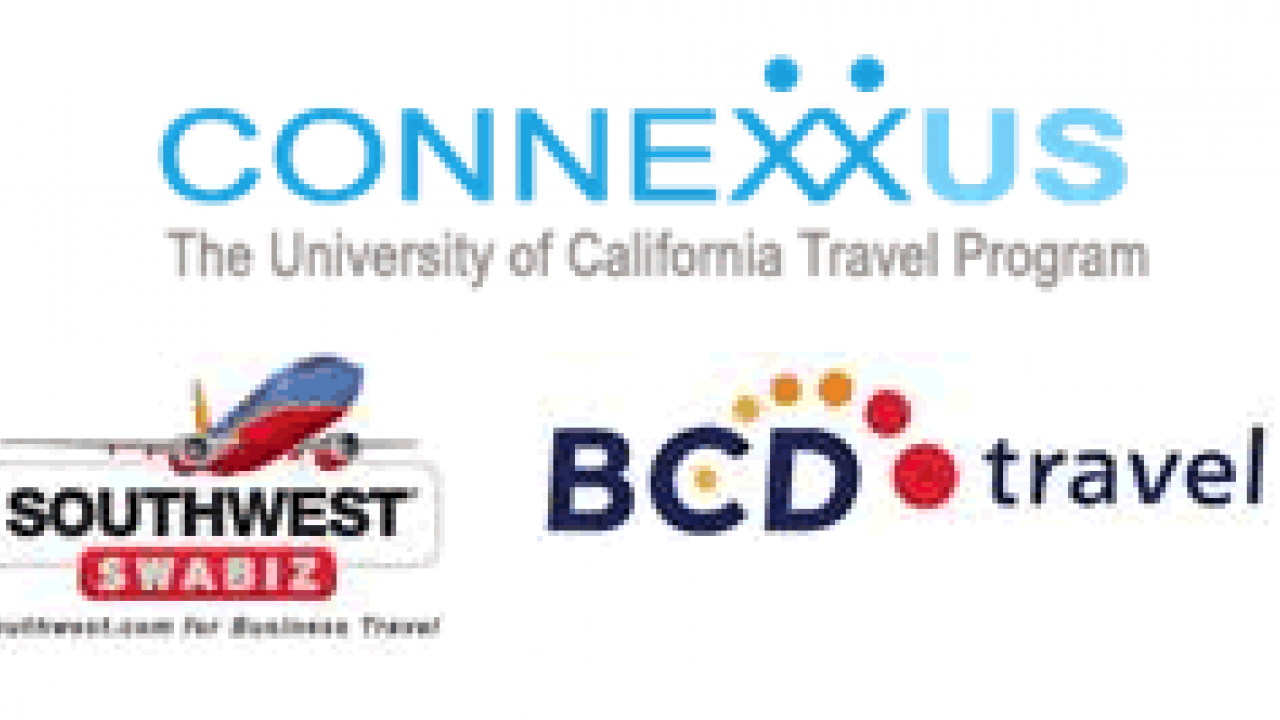 SOUTHWEST PROMO 
Between October 1 - December 31, 2014 the discount for Business Select and Anytime fares will increase: 

· Fares are fully refundable and changeable; 
· Fares can be purchased through SWABIZ and will earn additional Rapid Rewards points per one way trip; 
· Fares can be purchased through any of the Connexxus agencies and can be purchased with the USBank CTS/direct bill card. 

Note: If UC increases utilization by 20% by 12/31/14, Southwest will further increase the Business Select and Anytime fare. Log in to the portal for more information and to make your Southwest SWABIZ reservations today! 

BCD TRAVEL LAUNCHES TRAVEL WATCH TWITTER SERVICE 
BCD Travel would like to share with you the latest enhancement to their Global Crisis Management offering. Theyve created a set of Twitter accounts that travelers can follow to stay informed about potential risks and delays. Americas, APAC and EMEA/UK&IE each have a dedicated feed for incidents specific to those regions. Events with global relevance will be tweeted in all three accounts. 

· @BCDamericas (America including USA, Canada, South & Central America) 
· @BCDapac (Asian Pacific including China & Japan) 
· @BCDemea (Europe, the Middle East and Africa) 

Travelers can follow the feed related to the region in which they are traveling to get fast, concise information about incidents affecting their travel. Once they finish their trip, they may unfollow to avoid clutter in their timelines. 

This free service is a dedicated source for timely information about travel risk and disruption. BCD Travel will use their global Twitter account, @BCDtravel to post about other travel industry related items. 

Please feel free to use this new service and follow the applicable account on your next trip. Its just one more way you can travel smart and achieve more. 

NEW HOTEL CREDIT CARD FRAUD ATTEMPTS 
At the front desk, typically when checking in, you give the front desk your credit card (for any charges to your room). You go to your room and settle in. All is good. 

The hotel receives a call and the caller asks for (as an example) room 210- which happens to be your room. 

The phone rings in your room. You answer and the person on the other end says the following: 'This is the front desk. When checking in, we came across a problem with your charge card information. Please re-read me your credit card numbers and verify the last 3 digits numbers at the reverse side of your charge card.' 

Not thinking anything wrong, since the call seems to come from the front desk you oblige. But actually, it is a scam by someone calling from outside the hotel. They have asked for a random room number, then ask you for your credit card and address information. They sound so professional, that you think you are talking to the front desk. 

If you ever encounter this scenario on your travels, tell the caller that you will be down to the front desk to clear up any problems.
Category